August 15, 2018
Better radar coverage coming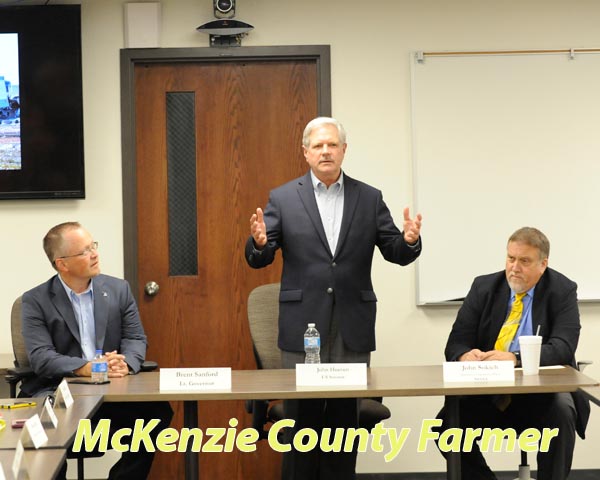 By Neal A. Shipman
Farmer Editor
It may take a year for the National Oceanic and Atmospheric Administration (NOAA) to make the changes at its Minot National Weather Service radar facility, but once those changes are done, Watford City, Williston and much of western North Dakota will finally have better radar coverage.
Last Friday, U.S. Sen. John Hoeven (R) along with John Sokich, NOAA Legislative Affairs director, Jeffrey Savadell, NOAA meteorologist in charge in Bismarck and North Dakota Lt. Gov. Brent Sanford, met with Watford City and McKenzie County leaders and emergency responders.
Watford City and much of western North Dakota has no radar coverage below 10,000 feet and area emergency responders feel that if better radar coverage was available, there may have been better advance warning for severe storms, including the July 10 EF2 tornado. That tornado destroyed and damaged hundreds of campers at the Prairie View RV Park south of Watford City and resulted in the death of an infant and injured 25 others.
"We need better radar coverage to prevent death and injury," stated Hoeven. "We need NOAA to address that need."
According to Sokich, NOAA is currently studying the possibility of lowering the angle of the Minot radar to zero degrees, which would greatly improve radar coverage in western North Dakota. If changing of the angle of that radar site works, radar coverage would be down to about 4,000 feet.
For the full story, subscribe to the McKenzie County Farmer
---