October 10, 2018
County approves 5-year, $300 million road plan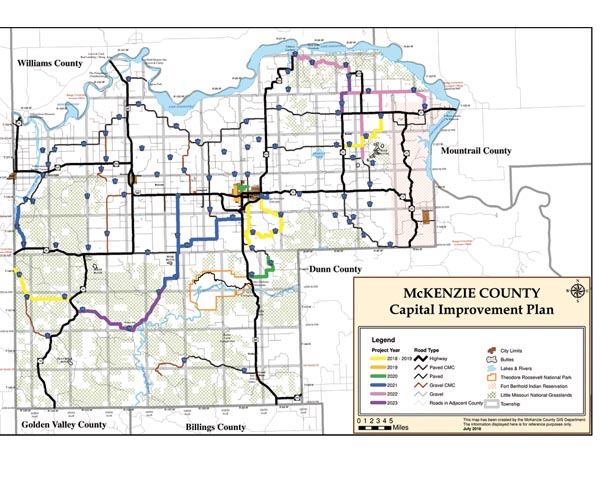 By Betsy Ryan
Farmer Staff Writer
The McKenzie County Commissioners approved a $300 million 5-Year County Road Plan that will improve over 200 miles of county roads. With over 46 miles of paved roads planned for the rest of 2018 through 2019, crews are already at work putting that plan in place.
"In 2013, when the boom was really on and money started coming in, the board wanted to come up with a road plan that would be the most efficient way to spend their money," said Suhail Kanwar, McKenzie County public administrator and engineer. The development of a Strategic Transportation Plan was the answer for the board.
In 2014, McKenzie County adopted a Strategic Transportation Plan and, based on that plan, every year the county engineers draft an updated 5-Year County Road Plan and present it to the commissioners for approval.
"We spend close to $20-30 million every year just to maintain our road system," Kanwar said.
All of the maintenance and new construction costs for the approved five-year plan is approximately $300,725,000. The vast majority of that budget is funded by the county's Gross Production Tax (GPT) receipts, which covers about 75 percent of the budget, and the rest coming from private contributions, the taxpayer and federal monies.
For the full story, subscribe to the McKenzie County Farmer
---