October 3, 2018
New golf course holes open to rave reviews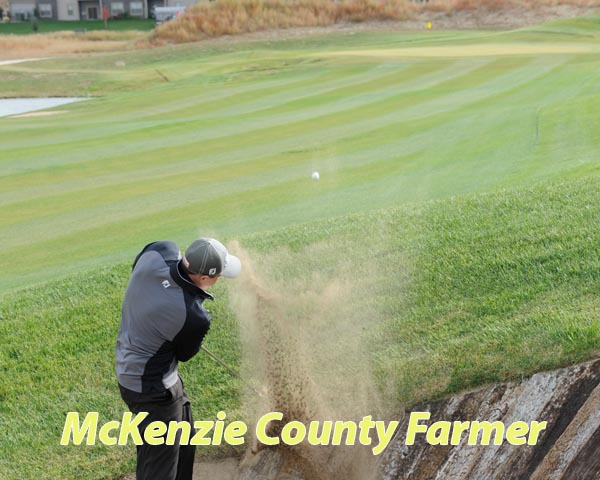 By Neal A. Shipman
Farmer Editor
Dozens of Watford City golfing enthusiasts didn't let chilly 50-degree temperatures keep them from trying out the 12 new holes at the Fox Hills Golf Course on Saturday, Sept. 29, following an official ribbon-cutting.
And it didn't take long for rave reviews to start flowing in as the golfers got their first experience of the $15.5 million first phase of the 18-hole expansion project.
"It was a lot of fun," stated Wayne Olson as he noted he lost his share of golf balls on the holes that meanders along a creek and is peppered with water and sand hazards. "It's beautiful. It's really challenging, but with open fairways and large greens, it's more forgiving than it looks."
"It's great to have this day," stated Steve Stenehjem, whose family donated land for the new golf holes. "To be a Class A town, you need Class A facilities which this new course will be."
The course, which was designed by Kevin Norby of Herfort Norby Golf Course Architects, with Landscapes Unlimited handling construction and course operations, the new layout will have a decidedly different feel. Among the features designed into the new course are wide fairways and large greens set alongside Cherry Creek, as well as sand bunkers, which have wood bulkheads to ensure visibility and to provide for a unique experience, that were inspired by the links courses of Ireland and Great Britain.
For the full story, subscribe to the McKenzie County Farmer
---