June 20, 2018
Voters send top county candidates to November election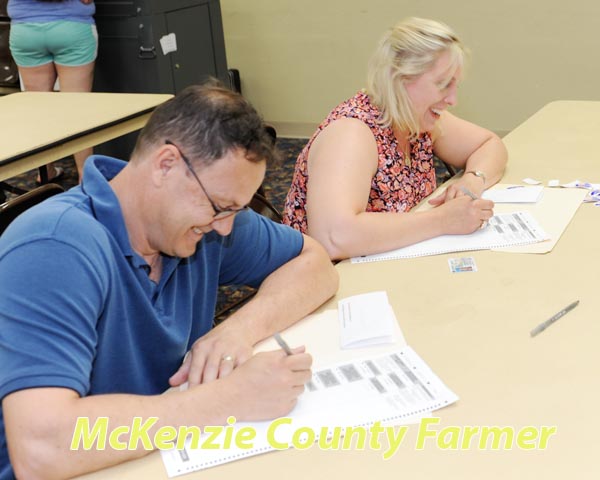 By Neal A. Shipman
Farmer Editor
McKenzie County voters had a long wait on Tuesday evening in learning of the unofficial outcome of the June 12 election. While the results from the polling centers in Watford City, Cartwright and Mandaree were posted to the North Dakota Secretary of State's official election site shortly after the polls closed at 7 p.m., the results from the vote by mail ballot weren't available until shortly before midnight.
"I'm pleased with how the overall voting process worked," stated Erica Johnsrud, McKenzie County auditor. "The process of finalizing the votes at the Watford City and absentee precincts was delayed because of the number of write-in votes we had to manually count. That's why the last numbers were slow in being reported."
The June 12 election featured several highly-contested races at the county level for county commission, county sheriff and county recorder, as well as closely-followed races for Watford City's and Arnegard's mayors.
In the race for two open seats on the McKenzie County Board of County Commissioners, incumbents Kathy Skarda and Vawnita Best were the top two vote-getters with 1,089 and 692 votes, respectively, while Howdy Lawlar and Rolfsrud garnered 625 and 554 votes, respectively. These four candidates will advance to the November 13 General Election.
In what could have been the biggest surprise in Tuesday's vote, Matt Johansen, a McKenzie County deputy sheriff, eclipsed incumbent sheriff Gary Schwartzenberger by a 1,260 to 583 vote margin. Both Johansen and Schwartzenberger will advance to the November election.
In the only other contested county race, Katie Paulson emerged from Tuesday's election with a 1,298 to 488 vote advantage over Dori Sparby. Both candidates, who are seeking the position currently being held by Ann Johnsrud who is retiring at the end of her term, will appear on the November election ballot.
For the full story, subscribe to the McKenzie County Farmer
---