January 5, 2016
Belland takes sixth at Rumble on the Red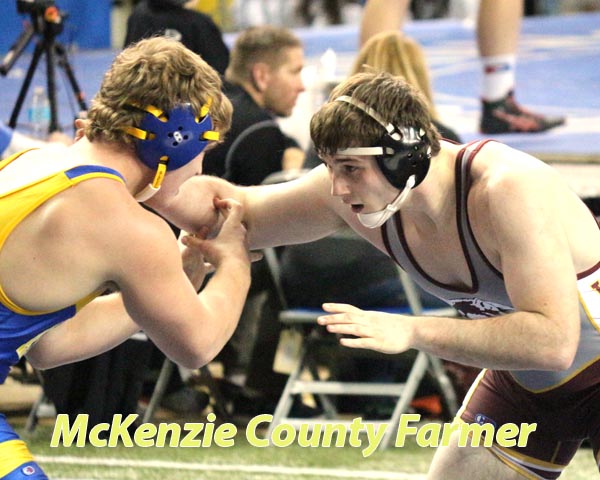 By Neal A. Shipman
Farmer Editor

Watford City only put two wrestlers on the mat in the varsity division of the Rumble on the Red Tournament in Fargo, but Jade Hepper and Jake Belland proved that they could wrestle with the best.
The tournament, which was held on 21 mats, featured 69 teams and 1,352 wrestlers competing in varsity and junior varsity settings.
"I'm very pleased with how our wrestlers performed," stated Mitch Greenwood, Wolves' head coach. "We took 13 competitors to the tournament, and all but one of them came away with at least one win under their belt."
Jade Hepper, who competed at 138 pounds, started out hot picking up pins in each of his first two bouts, before losing a 14-7 decision and getting pinned in his next bout, finishing two wins short of the placing rounds.
Wrestling at 220 pounds, Belland also started out the event with a pair of wins before losing in the quarterfinal round. He then reeled off two more wins to reach the consolation semifinal match, before losing to the top-ranked North Dakota wrestler in Colby Steeke from Hettinger. In the fifth place match, Belland lost to Alex Barbion of Beulah/Hazen, the No. 1-ranked 195-pound wrestler in North Dakota.
Eleven of the wolves competed in the Junior Varsity portion of the tournament.
Liam Shannon and Jake Leppell competed at 106 pounds with Shannon finishing one win shy of placing, while Leppell ended the tournament with a 2-2 record.
Wrestling at 113 pounds, Braedon Gumke finished 1-2, while CJ Thacker was one win short of placing at 120 pounds.
Dakota Garmann ended the tournament, 2-2, at 126 pounds, while Antonio Garcia picked up one win in the 132-pound bracket. Hunter Schwartzenberger had a tough draw and was 0-2 in the event.
Kyle Cook went undefeated, 6-0, in the 152-pound class to win the JV championship.
Carlton Turnquist finished 1-2 at 170 pounds, while Connor Dennis dropped his first match of the tournament, before winning five straight to earn a rematch in the consolation semifinals with his first opponent. Dennis avenged the loss and went on to place third overall.
Jackson Faller rounded out the action for the Wolves and fell one round short of making the placing rounds.
The Wolves will be back in action on Thursday when they host a triangular with Stanley and Bishop Ryan during Parents Night. The wrestlers will then compete in the Hettinger Tournament on Friday and Saturday.
---