June 20, 2023
Walleye takes third at Johnsrud Tournament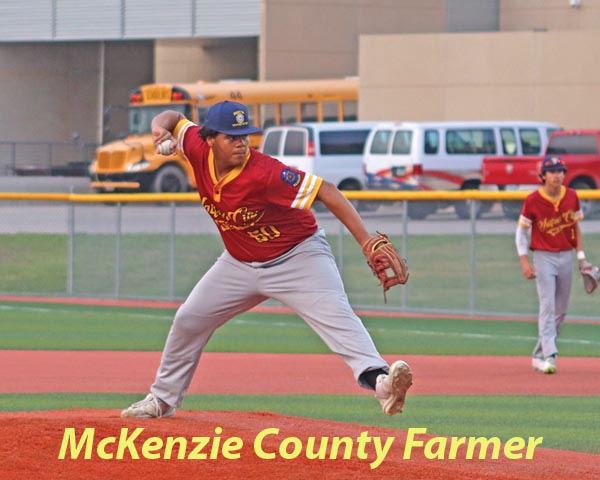 Titus Stenberg
Farmer Sports Writer
A total of 16 American Legion baseball games were played at Rough Rider Center Baseball Field. The weekend was full of good weather and exciting games. When the dust settled, these were the final scores from pool play:
Gillette, Wyo. 10 - Glendive, Mont. 7
Billings, Mont. 13 - Froid, Mont. 5
Glasgow, Mont. 8 - Williston 4
Watford City 4 - Surrey 2
Billings, Mont. 10 - Glasgow, Mont. 2
Glendive, Mont. 7 - Surrey 3
Froid, Mont. 16 - Williston 15
Gillette, Wyo. 11 - Watford City 6
Glasgow, Mont. 3 - Froid, Mont. 0
Gillette, Wyo. 7 - Surrey 0
Williston 9 - Billings, Mont. 8
Watford City 12 - Glendive, Mont. 4
Those results set up the placing games for the fourth day of the tournament. Three of those four games were extremely close. Williston took home seventh place with a 12-10 win over Surrey. Glendive defeated Froid in the fifth place game between two Montana teams. The host Watford City Walleye got third place with a convincing 9-1 win over Glasgow, Mont. The championship went to Gillette, Wyo., as they knocked off Billings, Mont., 8-7 in the thrilling finale.
John Dolan from Billings was named MVP of the tournament. Colton Wells, also from Billings, was named the most valuable hitter. Catcher Austin Pulliam from Gillette earned the title of most valuable defender. The tournament's "Charlie Hustle" Award went to Watford City's own Carson Voll.
Another great moment of the tournament came when Assistant Tournament Manager Greg McNary was honored. McNary was given a #29 jersey for his work with Watford City American Legion Post #29 baseball. Along with the jersey, McNary was presented with two baseballs. One had Cogswell, N.D., written on it and the second had Watford City, N.D. McNary started coaching baseball in Cogswell and finished his coaching career in Watford City after completing 41 seasons.
---