April 6, 2021
Badlands Go Up In Flames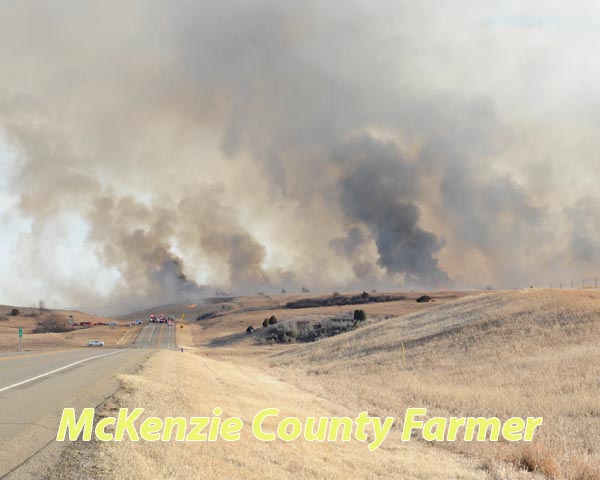 By Ashleigh Plemper
Farmer Staff Writer
The eerie atmosphere of charcoal-colored skies left many local residents of Watford City feeling smoke-choked on the evening of Easter Sunday as fire crews continued working to contain a 3,000-acre wildfire expanding across the National Grasslands and the North Unit of the Theodore Roosevelt National Park south and west of Watford City.
The fire, which started at approximately 5 p.m. on Saturday, April 3, was still burning uncontrolled as of Monday, April 5.
"Thirty percent of the 3,000 acres have been contained," said Jay Mickey, National Park Service deputy regional chief of fire and aviation for the midwest region, on April 4. "While we consider 30 percent of the 3,000 acres to be what we call 'mopped up' and in pretty good shape, there's large sections of the fire that aren't contained."
Within hours after the fire started on April 3, Mickey says U.S. Highway 85 was temporarily shut down from Watford City to Highway 200 south of Grassy Butte. As roads were eventually reopened, they would be shut down again on Sunday afternoon, April 4, after Mickey says a spot fire combined with high winds caused the fire to grow and become more active again.
---