September 22, 2020
Farmers share their excess harvest to help those in need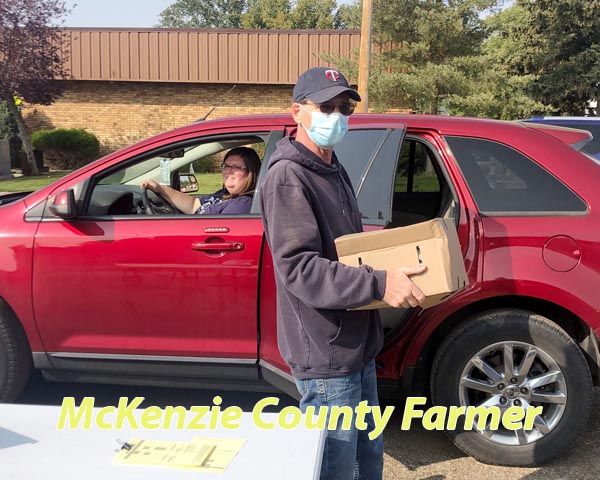 By Ashleigh Plemper
Farmer Staff Writer
Despite times being tough, Alva Toles and his wife were all smiles as they rolled through the First Presbyterian Church parking lot to receive their Farmers to Families Food Box on Sept. 18.
"My wife and I are both on Social Security. And the fact is, what job I did have has dropped off big time," says Toles. "So I lost a lot of work."
With work comes money, and when work is low, funds are tight. But thanks to opportunities such as the one offered last Friday, local residents who are in a financial pinch like the Toles, can stretch their dollars further with the help of free meals.
"Having the groceries helps a lot. My wife loves to cook so she takes the box and mixes the celery, carrots and stuff like that to make a roast," says Toles, a resident of Watford City for 40 years.
Earlier this year, while many workers saw their jobs reduced or eliminated, the growth of commodities on farms and ranches throughout the United States did not.
"You had your farmers with all this produce and rather than let it go to waste, they were able to distribute it," says Kay O'Connor, who manages the Watford City Food Pantry.
---