April 6, 2021
Firemen get the training they need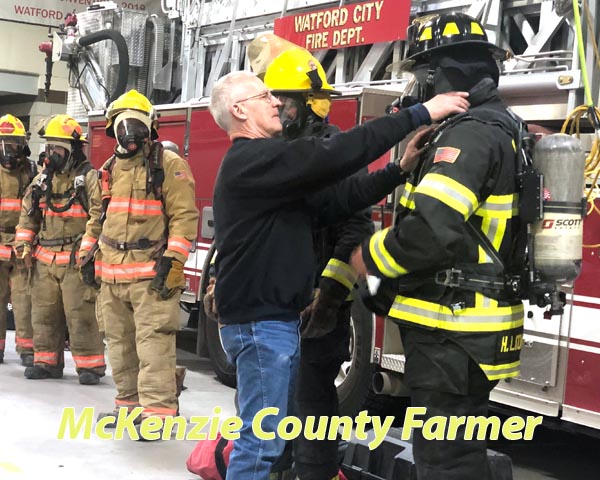 By Ashleigh Plemper
Farmer Staff Writer
When Oscar Knudtson retired after serving for 18½ years as an operations specialist from the U.S. Forest Service, the 45-year fireman with the Watford City Fire Department (WCFD) had every intention of finally being able to kick back.
But it wouldn't even be a week after retiring before he was using his expertise and knowledge to teach a Firefighter I Training Academy for firefighters with the WCFD and those of other county fire departments.
"We were either going to have to go to Minot or Dickinson every two weeks for this class," says Ian Brothers, Watford City Fire Department volunteer firefighter.
Interestingly enough, this is the first time Brothers says he has had the opportunity to take the training course in Watford City in order to be certified by the North Dakota Firefighter's Association.
"We are happy that he stayed to do this," says Brothers. "We've got guys from Fairview, Grassy Butte, Alexander and Keene attending the training."
But when it comes to being a firefighter, Knudtson says it's far more than just putting out fires.
"They want to have knowledge of what they're doing and why they're doing it," says Knudtson.
Knudtson says the Firefighter I Training Academy instills a certain amount of professionalism in each of the firefighters' programs.
---