September 22, 2020
Practice makes perfect for local emergency responders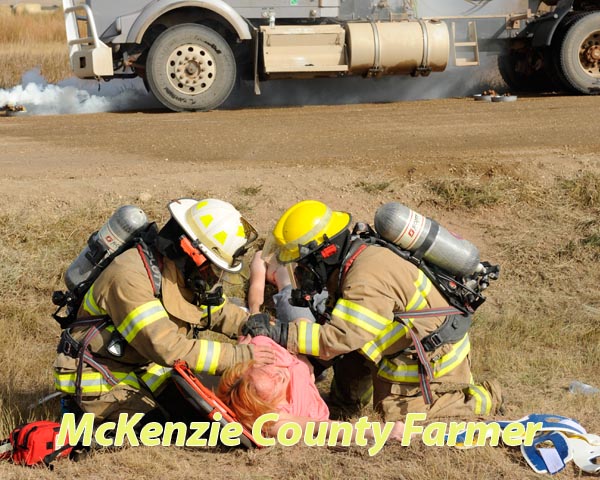 By Ashleigh Plemper
Farmer Staff Writer
When there's an emergency at hand, it's important for teams to act quickly and cohesively. But in order to do so effectively, it takes practice. Last week, first responders and county officials of McKenzie County responded to a simulated Hazardous Materials and Mass Casualty incident in Watford City on Sept. 17.
"If we don't ever practice together, how will we know?" says Karolin Jappe, McKenzie County Emergency manager.
As numerous target agencies/departments gathered to participate in a response to a scenario involving a contaminated spill at the ONEOK Gas Plant, the exercise involved a multitude of emergency situations that tested all of the responders.
"We don't want to learn the hard way and I'd rather know ahead of time," says Jappe, of practicing a faux emergency scenario.
The scene involved a loaded semi-truck traveling at a high speed while being chased by a pickup truck with nine people inside. After attempting to run the semi off the road, it was finally stopped at the entrance of ONEOK's above ground gas tank farm. The men in the pickup began vandalizing the semi with sledge hammers and in the process breaking the valves and causing the tank's contents to leak.
---