April 12, 2022
Ramage chosen to Herald's '20 under 40'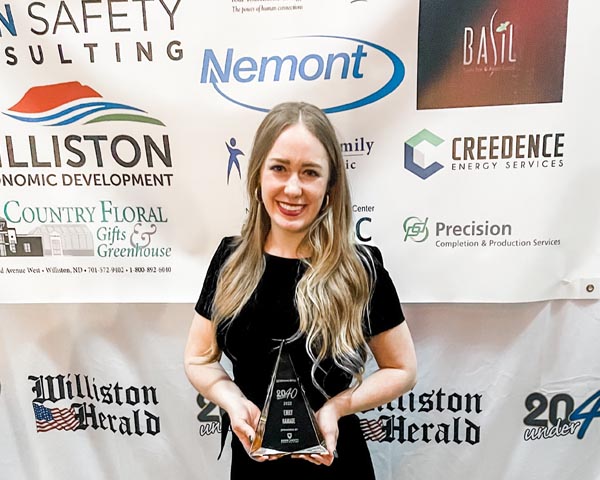 By Ashleigh Plemper
Farmer Staff Writer
Emily Ramage Geltel was recently chosen for the Williston Herald's '20 under 40' feature of the newspaper, which highlights individuals who have experienced success in their careers before the age of 40 and work within the city of Williston.
While Geltel may work in Williston, she grew up in Watford City, graduating from Watford City High School in 2013.
"I attribute so much of my personal and professional successes to the town of Watford City," she says.
Whether it was work experience, scholarships or networking from a 'small town' upbringing, Geltel attributes her successes to the opportunities that Watford City afforded her.
Although Watford City has changed a lot in the last 15 years, the characteristics of Watford City that I loved so dearly growing up are still there," she says.
Aspects most prominent to Watford City that Williston shares, Geltel says, are hard working people and genuine personal connections.
"And a community who cares so much about each and every person that lives there," she says.
For the full story, subscribe to the McKenzie County Farmer
---