October 9, 2019
Ribbon-cutting held for county Public Works building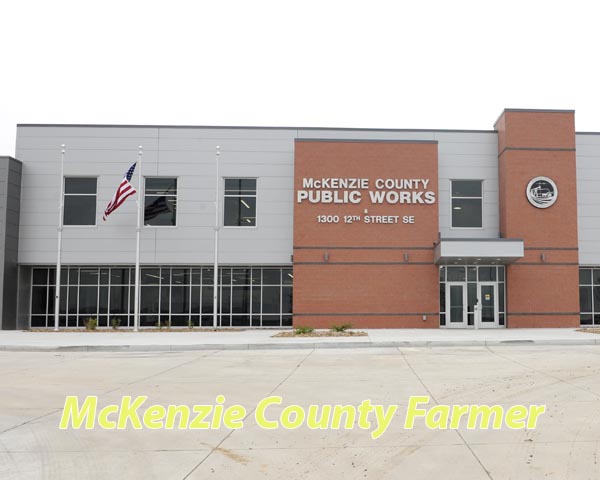 By Neal A. Shipman
Farmer Editor
Tom McCabe, McKenzie County Board of County Commissioners chairman, remembers the first time that he stepped into the McKenzie County county shop 50 years ago.
"It was like a dungeon," recalls McCabe of that visit with his father, Charles, who worked for the county road department at the time. "There was a coal-fired furnace in the building and everything was black from all of the coal dust."
But that first county shop, as well as the other two that followed through the next five decades paled in comparison as McCabe and other county officials stood in front of an impressive 67,000 square foot facility last Tuesday afternoon as they cut the ribbon for the new McKenzie County Public Works building.
"We now have a true Public Works facility," stated McCabe. "This is a beautiful facility that will serve our county for a long time."
And impressive it is. The new Public Works facility includes offices for five county departments - the Roads and Bridges department, the Water Resource District, Planning and Zoning, GIS and the Weed Control Department, along with office space for the Western Area Water Supply Authority.

For the full story, subscribe to the McKenzie County Farmer
---