August 2, 2016
State loans Arnegard $380K for lagoons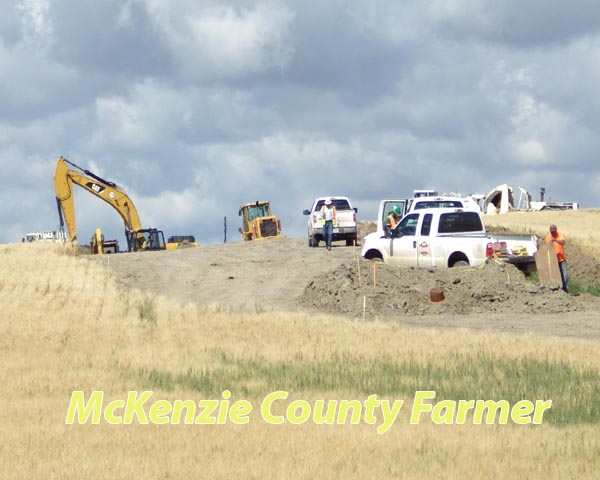 By Jack Dura
Farmer Staff Writer

A project to better manage Arnegard's wastewater treatment has received a little help from the state.
The North Dakota Department of Health awarded a $380,000 loan last month to Arnegard for its project as part of the Clean Water Revolving Loan Fund program. Arnegard will construct a new three-cell lagoon system for $3.43 million for better treatment of the city's wastewater.
Arnegard was on the health department's priority list for 2016, and applied for the loan on its needs basis and ability to repay the loan, said David Bergsagel, CWRLF program manager.
"Their existing ponds are in very poor shape because they were basically pretty much destroyed by the Arnegard Holdings company when they were managing them," Bergsagel said. "They also need expansion for potential future growth."
The state loan was intended to solve both issues, Bergsagel added.
Bids opened recently for the lagoon, with Circle H Engineering & Surveying of Dunn Center contracted, managing and inspecting the project daily.
Construction began two weeks ago with a tentative completion date of Dec. 15 followed by landscaping in the spring of 2017.
"It will be operational; however, the full contract won't be completed until everything's done," project engineer Elizabeth Tokach Duran said.
The lagoon site is located north of U.S. Highway 85 and west of McKenzie County Road 29.
"We're going to (move wastewater) from the existing facultative system that you can see from the northeast, bring it from the city's existing flow to the new treatment and back down to their original discharge location," Tokach Duran said.
The new lagoon system will repair past problems brought by the city's growth as well as water quality.
Arnegard Mayor Jeff Kindel and city auditor Juelie Bancroft said the city's population is difficult to gauge, but 150 people is a rough estimate, Bancroft said.
---