April 13, 2021
Third grader envisions a better city if he was mayor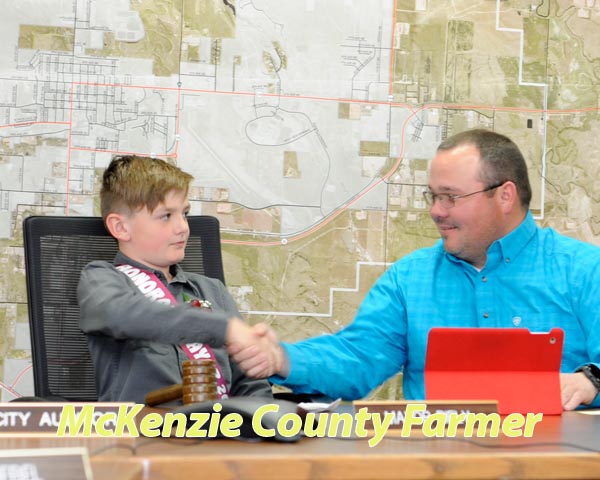 By Ashleigh Plemper
Farmer Staff Writer
In observance of City Government Week, every year third graders at Watford City Elementary School write and submit letters of what their aspirations would be if they could become the Mayor for a Day.
As one lucky student always gets chosen, it's an entertaining experience as everyone wonders what their appearance at the city council meeting will hold. Will they relish in their moment of power or simply enjoy the limelight? For this year's winner, Karson Kendrick, his mother says her son probably enjoyed a whole lot of both.
"They told me that normally the Mayor for a Day only attends the city council meeting for like 15 to 20 minutes before they leave," says Katy Kendrick, Karson's mother. "So when Mayor Phil Riely told him he was welcome to stay for the entire meeting, he was like, I'm staying."
Riely says Karson started out a little unsure of himself at the meeting, but he quickly warmed up to his role.
"I asked him if he wanted to call the meeting to order and he was a little nervous, maybe intimidated," says Riley. "But once I got him banging that gavel, man, he sure enjoyed it."
As a heated topic came up for discussion during the council's April 5 meeting, Riely says it gave Karson a realistic idea of what takes place.
For the full story, subscribe to the McKenzie County Farmer
---