November 10, 2020
Alice Witkowski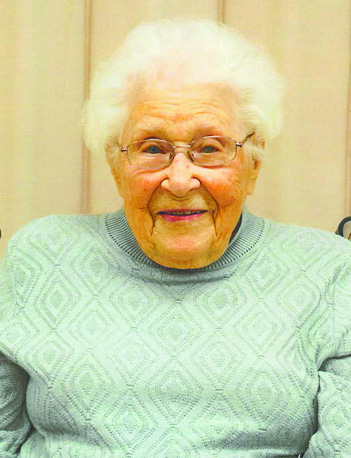 Alice passed away Tuesday, Nov. 3, 2020, at Good Shepherd Nursing Home in Watford City, N.D.
Alice Justine Stehno was born to Rudolph and Emma Stehno on Sept. 1, 1917, on the family farm in Grant County, N.D. She was the eldest of three children. She graduated from New Salem High School in 1935, and went to Chicago to work at a carton company for the next five years. She returned to Mandan and worked in the Mandan Creamery before joining the U.S. Marine Corps in 1943. She was stationed at Cherry Point, N.C., keeping the airplanes flying, before being discharged in 1945.
Alice married Lyle Toepke on May 1, 1946, and they moved to Mandan where Lyle worked for the railroad. They had two children, Bonnie and Richard. Lyle was killed in a railroad accident in April of 1950, and Alice was left to raise her family by herself. In the early '60s, Alice went to work for the City of Mandan as a billing clerk, a position which she held for 17 years. She married Frank Witkowski on Aug. 30, 1974, and they spent many happy years together doing things like square dancing, going to threshing shows, setting up a little place down by the river where they could fish and garden, and generally enjoying life. Alice's greatest joy was when they got a cottage in Bradenton, Fla., where they went for the winter months. She made friends wherever she went, and always found something enjoyable to do.
Alice was the happiest when she was helping someone. She always wanted to be useful, and even when she was no longer in good shape, if someone needed help, she would be there. She loved to read, do puzzles, and many different kinds of crafts. She was always looking for something to keep her mind active. She was a member of First Lutheran Church in Mandan, the American Legion Auxiliary, and the Golden Age Club. In 2009, she was honored for her military service in WWII, and received a medal of which she was very proud.
Her greatest joy was her family. Her children; daughter, Bonnie Johnsrud, grandson Kris (Hallie) Johnsrud and great-grandchildren Judge and Jeter, Hayden and Halle Rhea; and son, Richard (Sandy) Toepke, grandchildren Tami Toepke and Stuart Toepke. Step-daughter Bonita (James) Keller, step-son Robert (Debbie) Witkowski and numerous step-grandchildren and great-grandchildren.
She was preceded in death by her husbands, Lyle Toepke and Frank Witkowski; her parents; her sisters, Mildred Block and Margie Just; and two sons-in-law, Dennis Stack and Douglas Johnsrud; step-daughter, Fran Ellison and her husband John.
A graveside service inurnment for Alice Justine Stehno Witkowski, 103, was held Friday, Nov. 6, 2020, at 1 p.m. at the Mandan Union Cemetery in Mandan, N.D. Fulkerson-Stevenson Funeral Home of Watford City is caring for the family.
---