November 3, 2020
Cecilia Sivertson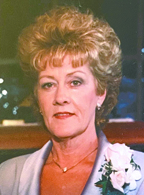 Cecilia Ann Sivertson, 74, of Keene, N.D., passed away on Oct. 19, 2020. She was born June 25, 1946, in Watford City, N.D., to Cecil Sr. and Lettie Wilson. She married Gary Stenseth on Nov. 20, 1964. They had two children Warren and Marcia. Cecilia and Gary were married for 14 years before Gary passed away on Dec. 11, 1978. After Gary's death, Cecilia stayed living in Colorado raising Warren and Marcia. She later met Arnold Sivertson and they married on May 30, 1998. They continued living in Colorado until they both retired. During retirement, they spent time in North Dakota with Arnold's parents, in Montana with Warren and his family, in California with Marcia and her family, and winters in Arizona.
She enjoyed gardening, golfing, and cooking. Cecilia was a loving wife, mother, and grandmother. Anyone who knew Cecilia was aware of her feisty personality.
Cecilia was preceded in death by her parents, Cecil Sr. and Lettie Wilson; her first husband, Gary Stenseth; and her late husband, Arnold Sivertson.
She is survived by her children, Warren (Rhonda) Stenseth and children Dylan and Amanda Stenseth Marcia Vujnovich and daughters Alexandra and Isabella Vujnovich; her brothers, Cecil Wilson Jr., Leroy Wilson, and Larry Wilson; her sisters, Caroline McNamara, Loretta McNamara, Jeannie Fallert, Lettie Mae Moline, and LeAnna Lee.
Services for Cecilia Sivertson are being planned for a later date, under the direction of Fulkerson-Stevenson Funeral Home of Sidney. Remembrances, condolences and pictures may be shared with the family at www.fulkersons.com.
---