November 17, 2020
Anders Lassey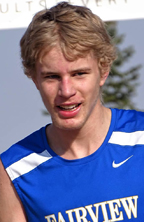 Anders Norman Lassey was born May 19, 2005, to Rod Lassey and Briana (Johnson) Lassey, on the day following his mother's birthday. Briana never ceased to remind Anders how she was in labor on her birthday. He grew up on the family farm at Cartwright, N.D. He attended elementary school at East Fairview, and Fairview High School. Anders was active in Cub and Boy Scouts, and was a member of the track and cross-country teams. Anders loved to run, and broke several school records.
Anders was musically inclined and played saxophone in grade school and high school bands. He also had a wonderful singing voice, and loved to sing along to the radio when on the road.
Anders had an exuberant personality, always ready for adventures, whether well thought out or not. He was a great tease, much to the chagrin of his brothers and sister. He enjoyed epic airsoft battles with his brothers and cousins, and loved playing video games with his brothers. He was also quite an accomplished cook, making perfect scallops at the age of seven years old. He enjoyed cooking recipes from his collection of Gordon Ramsey cookbooks.
Anders enjoyed working on the farm, especially when he got to drive tractors. He was particularly good with pets and livestock. His dog, Mercer, was always by his side, and the family jokingly called Mercer Anders's brother. They would play together for hours.
Anders was always headstrong and stubborn. He knew what he wanted. When asked if he wanted a baby brother or a baby sister, he requested a baby sister, and Britt didn't disappoint. She even looked like Anders, and she was his baby. The joke at church was that the boys were spoiled, whatever they asked for, they got! He was also an adoring and playful big brother to his baby brother Bjorn. Bjorn would light up when Anders walked in and immediately go running to him, wanting to play tag or be flung around like pizza dough. Anders was very obliging and accommodating when it came to Bjorn.
Anders passed away on Nov. 11, 2020. He was preceded in death by his great-grandma, Wanda Johnson.
Anders is survived by his parents, Rodney Lassey and Briana Villegas; step-father, Alex Villegas; and his brothers and sister, Christian, Isaak, Britt, and Bjorn. He is also survived by his Granpa and Gramma, Jerry and Judy Lassey; and his Nana and Papa, Ruth and Norman Johnson; and numerous aunts, uncles, and cousins.
Funeral service for Anders N. Lassey, 15, of Cartwright, N.D. were held at 10 a.m., (MST) Tuesday, Nov. 17, 2020, at the Zion Lutheran Church, Fairview, Mont., with Pastor Audrey Rydbom officiating. Interment will be in the Yellowstone Point Cemetery, Cartwright, N.D., under the care of the Fulkerson-Stevenson Funeral Home of Sidney. Visitation was held on Monday, Nov. 16, 2020, from 10 a.m. to 5 p.m. at the funeral home in Sidney and one hour before services at the church. Family services were open to the public at 6 p.m., Monday, Nov. 16, 2020, at the Fulkerson-Stevenson Funeral Home in Sidney. Remembrances, condolences and pictures may be shared with the family at www.fulkersons.com.
---