January 11, 2022
David Hogan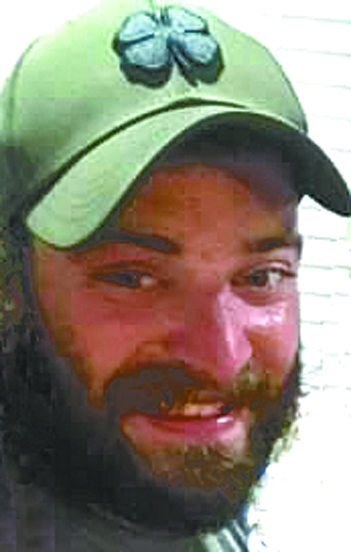 David Thomas Hogan lost his life suddenly and unexpectedly on Dec. 23, 2021, in Watford City, N.D. The entirety of the circumstances remain clouded, but what is clear is that David lit up the lives of those who knew him. As one of his friends recently said, "Dave was the life of the group. There wasn't anyone not smiling when he was around."
Parents Michael and Rebecca Hogan and big sister, Holly joyfully welcomed Dave to the world on March 14, 1991, in Newport, Ore. Dave and family always joked that he was three days premature and his true birth date ought to have been on Saint Patrick's Day, as his Irish heritage and sense of Irish pride were quite strong.
When Dave was five, his family returned home, to Idaho. Dave attended school in Juliaetta and Kendrick, graduating from Kendrick High School in 2009. His school-aged years gave him many hilarious stories, heartwarming memories, and lifelong friendships. During high school Dave was a passionate football player, and his friends were everything to him.
Following graduation, Dave went on to develop the most eclectic interests, hobbies, and careers. His pursuits had two things in common: they took him places, and they kept him in good company. Dave enjoyed competitive dart throwing, music and concerts, movies, fishing, hunting, cooking, and pre- and post-Columbian American history. Dave's mother once took him on a multi-state vacation to allow him to investigate the latter in his own way.
Dave spent his working years logging, building roads, and working in the oilfields of North Dakota, switching between those roles off-and-on. Whatever job he was doing at any given time, it was always for, or with, a close friend. Dave was known for being considerate and appreciating the beauty of his surroundings, and he would often take photos from his job sites and send them to his family and friends. His favorite quote was, "The harder you work, the luckier you'll get." Most recently, Dave was living in Watford City, N.D., and had been working as a derrick hand for AWOL Well Service Pony Rig.
Dave met his soulmate and longtime girlfriend, Rebecca "Bear" Haines, in January 2015. Bear recalls that, "He swept me off my feet with a hug, his love for music, and his vast love for his family and friends." They welcomed their first (fur) baby in January 2017, when their mastiff, Doobie, was born. Their hearts and family grew April 7, 2020, when they welcomed a daughter, Evelyn Murphy Hogan. Before Dave had Bear and Evelyn, it seemed he only saw the world in gray tones; once he had them, it was as if he could suddenly see in color. His love for his girls was unimaginably enormous, and they gave him the most joyous years of his life. In the Spring 2021, Dave and his family went east to North Dakota so that he could resume working in the oil industry.
Dave is survived by Bear, Evelyn, and Doobie; mother, Becky Hogan; sister and brother-in-law, Holly and Casey Strong; nephews, Tristan Hensley and Jasper Strong; niece, Chesny Strong; numerous aunts, uncles, cousins; and many friends, whom Dave absolutely counted as family.
Dave was preceded in death by his grandparents, Thomas and Evelyn Hogan, and David Morton, and Muriel Mortan-Luce; and father, Michael Hogan.
A celebration of David's life will be held at 2 p.m. on March 5, 2022, at Kendrick High School in Kendrick Idaho, with a reception to follow. If you have photos or stories to share about how Dave lit up your life, please send to davidhoganmemorial@gmail.com
For those who would like to contribute, the Dave Hogan Donation Account has been established at Potlatch No. 1 Federal Credit Union to assist David's family with end-of-life expenses; the remaining balance will be placed into a trust for his daughter, Evelyn.
On Saturday, Jan. 29, 2022, beginning at 6 p.m., a memorial dart tournament and silent auction will be held in Dave's honor at The Alibi & Sport's Edition in Lewiston, Idaho.
Thank you to all who loved and supported Dave throughout his too-short life. He usually chose the path of most resistance, feared nothing, and met any challenge head-on. Through the ups and downs, Drew, Matt, Jason and Tony, Andy, TJ, Jake and Jerrod, and any other friends he loved deeply - David's family will continue to love you all as much as they will continue to miss David.
Fulkerson Stevenson Funeral Home of Watford City, N.D. is assisting the family. Condolences may be left on our funeral home website at www.fulkersons.com.
---