January 11, 2022
Emma Pojorlie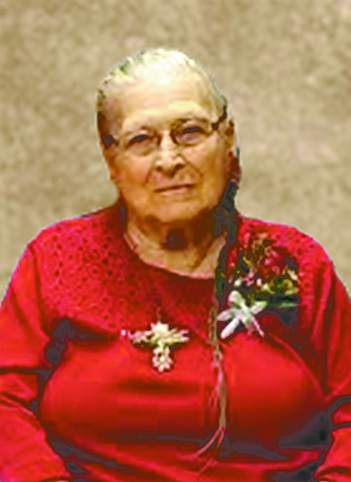 Emma Lorraine Eschenko Pojorlie entered into eternal rest Jan. 5, 2022.
Emma was born on the family farm north of Grassy Butte on Aug. 23, 1927. She was the fourth of five children born to Peter and Alexandria Eschenko.
She attended local rural schools in the area. Emma also received academic credits from the Killdeer School. Emma attended Watford City High School and graduated May 31, 1946. She attended the State Teachers College in Dickinson, N.D., where she received her teachers' certificate. Emma taught elementary school from 1948 to 1950. She was also the Grassy Butte school cook for over 35 years from 1967 to 2003.
Emma married John Pojorlie July 15, 1949, to which four children were born.
Emma was involved in the Sagebrush Ranglers 4-H Club as a leader. She became an Honorary Member of the Watford City FFA. Emma milked cows, separating the milk and cream, selling to the Watford City Creamery or friends and relatives along with eggs. She was very proud of her gardening skills, giving to friends and relatives and selling at the Farmers Markets. Emma tried to provide for her family even in their adult lives.
Emma was a very hard worker all of her life and taught her children and grandchildren strong work ethics. She enjoyed scrapbooking, cutting newspaper articles out of local newspapers, sewing, cooking, collecting antiques and woodworking with cedar. She also liked playing bingo and art craft activities as she was very artistic.
Due to several health issues Emma entered the Hilltop Home of Comfort in April of 2011. She loved seeing her grandkids, great-grandkids and their pets while at Hilltop Home. Emma remained at the Hilltop Home until her death.
She is survived by her sons, Eugene Dale Pojorlie and James Peter (Colleen) Pojorlie; her daughters, Vicky Jean (Larry) Schaff and Cindy Diana Geiger; sister, Mary Ellen Norris; 13 grandkids; 20 great-grandkids; 3 great-great-grandkids; sisters-in-law, Rose Eschenko and Alice Pojorlie; and numerous nieces and nephews.
Emma is preceded in death by her husband, John Pojorlie; parents, Peter and Alexandria Eschenko; brothers, Fred Eschenko and Ted Eschenko; and sister, Christine French.
Our family would like to express our heartfelt gratitude to the entire staff of the Hilltop Home of Comfort for their excellent care and compassion during Mom's stay.
Emma's Funeral Service was held on Monday, Jan. 10, 2022, at the Redeemer Lutheran Church in Grassy Butte, N.D. Reverend Michael D. Wolters officiated. Emma was laid to rest at the Grassy Butte Cemetery in Grassy Butte, N.D.
Fulkerson Stevenson Funeral Home of Watford City, N.D. is assisting the family. Condolences may be left on our funeral home website at www.fulkersons.com.
The Funeral Service was livestreamed. You can view Emma's service directly on her obituary page on our website www.fulkersons.com.
---