June 8, 2021
Eileen Mallon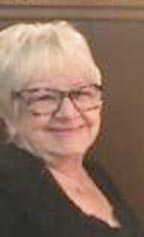 Eileen Gail Mallon, 68 years old, of Lindenhurst, Ill., passed away peacefully Tuesday, May 25, 2021, at NorthShore Highland Park Hospital, Highland Park, Ill. She was born July 19, 1952, in Watford City, N.D. She was the daughter of the late Ervin and Lula (neé Tiegs) Kummer, living in Des Plaines, Ill., before settling in Lindenhurst in 2006. Before her retirement in 2019, Eileen worked as a Registered Nurse at Holy Family Medical Center, Des Plaines, Ill., for nearly 30 years. Eileen enjoyed gardening and especially being with her family.
She is survived by her husband, Mitchell; two children, Melissa (Wayne) Goossen of Lindenhurst, Ill., and Christopher Mallon of Kenosha, Wis.; two grandchildren, Meghan and Zachery; three sisters, Maverly Brugh of Minot, N.D., Dianne Sparrow of Billings, Mont., and Barbara (Jim) Fraley of Minot, N.D.; and many other relatives and friends.
In addition to her parents, Eileen was preceded in death by a brother, Gary Kummer; and nephews, Robbie Kummer and Scott Kummer.
Interment of Eileen's cremated remains will be at a later date in Sandstone Cemetery near Keene, N.D.
---