June 15, 2021
Harley Wayne Olson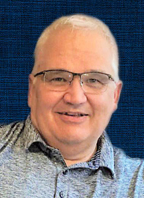 Funeral services for Harley Wayne Olson, 54, of Watford City, were held at 11 a.m., Monday, June 14, 2021, at First Lutheran Church in Watford City. Pastor Paul Balaban, Pastor Garrett Gudmunsen, and Rob Favorite officiated. Burial followed at Schafer Cemetery.
Prayer service was held at 4 p.m. Sunday, June 13, at the First Lutheran Church. Visitation continued until 6 p.m.
Wayne passed away June 9, 2021, at Sanford Hospital in Bismarck surrounded by his loving family.
Wayne was born Sept. 27, 1966, the son of Harley Lee and Charlene (Jeanotte) Olson. He grew up and attended schools in Keene, Johnson Corners and Watford City, graduating from Watford City High School in 1985. He attended two years at the N.D. State School of Science for Diesel Mechanics. After, he returned to Watford and began farming for a short time with his father.
He worked at Rough Rider Implement for several years, and then began his career in the energy field where he worked for the next 30 years. Wayne married Rita (Hickel) on Oct. 20, 2006, in Watford City. To this union their beloved daughter, Harlee, was born and he gained step-children Darin, Amanda, and Dalton.
Wayne will be remembered for loving golfing, spending time with his family and taking care of his yards. He loved fishing, which came with his love for McKenzie Bay and everything that went with it: from yards and pontooning, to socializing with family and neighbors. He always bragged that West Bay was the best bay. He was a member of Clear Creek Lutheran Church of Keene, Fox Hills Golf Course, the Eagles Aerie 3543, and Ft. Union 128 Masonic Lodge where he served as Master.
Wayne will be remembered for his story telling, infectious laugh and ability to make any stranger a friend. He really was one of the good ones and his passing will leave a void for all that knew him.
Wayne is survived by his loving wife, Rita; their daughter, Harlee; step-children, Darin (Kaycee) of Tioga, Amanda (Tanner) Westlake of Bismarck and Dalton Biddle of Ariz.; mother, Charlene of Keene; mother-in-law, Marlene Fowler of Watford City; father-in-law, John Hickel of Watford City; brothers, Douglas Olson of Keene, Todd Olson of Sheridian, Scott (Loni) Olson of Devils Lake; sister-in-law, Dana Amon of Watford City; brother-in-law, Ellis (Kris) Hickel of Wahpeton; three grandchildren, Trynitee, Evelyn and Callum; nephews, Hunter and Tanner; nieces, Taylor, Abagial, and Molly; and numerous aunts and uncles.
He is preceded in death by his father, Harley Lee Olson.
Remembrances and condolences can be shared with the family at stevensonfuneralhome.com
Arrangements were by Stevenson Funeral Home in Dickinson.
---