June 22, 2021
Cole Larmer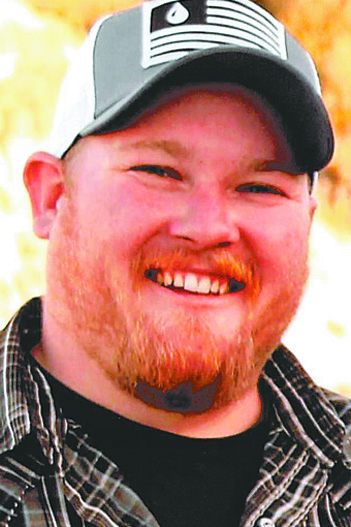 Cole Larmer, 29, of Williston, N.D., passed away Sunday, June 13, 2021, as a result of a motorcycle accident in Williston, N.D.
Cole Jackson Larmer was born Aug. 19, 1991, to Wade and Brenda Larmer in Gillette, Wyo. He passed away June 13, 2021, in Williston, N.D., doing what he loved, and rode his Harley to Heaven.
Cole spent his life loving his family, working hard, and playing even harder. He was "one of a kind" to say the least. From his stubborn, bullheaded nature, to his kind heart that was always willing to help someone in need. He lived his life a second at a time and a mile a minute.
His work history started at a young age with helping Grandpa Richard at the ranch. In high school he helped his dad with rig cleanups. After graduating high school, Cole went on to a vocational school in Halliday, N.D., where he earned his welding certificate. He then worked various oilfield jobs: Roustabout, hotshot, and working wireline. He spent some of his time as a hunting guide and then took his love of the outdoors and became a manager in the hunting department at Sportsman's Warehouse. His most recent career was at United Agronomy, where he was a Custom Applicator. During his entire working career, he was always out at the ranch, helping Grandpa with the cows and all the odd projects he had waiting for Cole.
In Cole's spare time he enjoyed his many past-times and hobbies. He loved everything about the outdoors. His favorites included hunting, fishing, golfing, riding motorcycles, dirt bikes, four-wheelers, and snowmobiles. He loved spending time with family and friends. He loved hard and will be dearly missed by many.
Cole is survived by his grandpa, Richard Burr; parents, Wade and Brenda Larmer; brother, Ryan (Shae) Larmer; sister, Aleshia (Darren) Logan; his loving girlfriend, Candice Hawkins; aunts and uncles, Jeff (Ronda) Larmer, Jackie (Tom) Heinle, Debbie Morris, Jamie Larmer, Bruce (Sherri) Burr, Steve (Traci) Burr, Debbie Burr; nieces, Amy (Kody) Arcand, Emily (Trevor) Edwards, Brandy (Matthew) Wilson, Jenny (Ryley) Marmon; cousins, Bailey (Dillon) Burr, Bradey Burr, Troy (Kami) Heinle, James (Ara) Heinle, Diane (Vernon) Knudson, Trell (Larry) Goebel, Megan Heinle, Adam Burr, Alex (Marr) Burr, Amanda Larmer, Camdon (Beth) Larmer, Nicholas Larmer, Kallie James, Tyler (Cindy) James; and numerous extended family and friends.
Cole was preceded in death by his grandpa, Jack Larmer; grandma, Leah "Mae" Haeuser; grandma, Diana Kay Johnson; grandpa Richard's loving girlfriend, Jackie Lyon; and great-niece, Bailey Arcand.
Cole's Funeral Service was held on Friday, June 18, 2021, at the Cornerstone First Baptist Church in Williston, N.D., Pastor T.J. Green officiated. Burial was held at the Farland Cemetery in rural Watford City, N.D. A family service was held at Fulkerson Stevenson Funeral Home Chapel in Williston on Thursday, June 17, 2021.
Fulkerson Stevenson Funeral Home of Williston is assisting the family. Condolences may be left on our funeral home website at www.fulkersons.com.
---