May 26, 2020
Gary Sax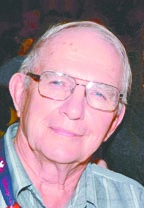 Gary O. Sax passed away at his home in Williston, N.D., on May 19, 2020, surrounded by his family.
He was born on Nov. 13, 1942, to Arleton and Alice (Gunderson) Sax in Watford City, N.D. He grew up on the family farm and attended the Banks Rural School through the eighth grade. He attended Watford City High School, graduating in 1960. He attended North Dakota State College of Science in Wahpeton, N.D., and graduated with an associates degree in electrical technology.
Gary enjoyed the farm life, hunting and fishing on the river bottom. In his later years, he enjoyed revisiting the area where he grew up.
His grandchildren were his pride and joy and you would often hear him talking about them and the various things that they were doing. You could usually find Gary sitting in his rocker at home watching Fox News or Broncos football, unless of course the Broncos were losing, in which case he would have to change the channel.
In 1965, he married his high school sweetheart, Anita Fisketjon. The two decided to join relatives who worked in the space flight industry. They moved to Huntsville, Ala., where Gary worked at the Redstone Federal Arsenal, building rockets. After two years, they moved back to North Dakota where Gary worked for a variety of electrical companies.
In 1969, they moved to Fort Collins, Colo. Later, they moved back to North Dakota. In 1988, Gary started Sax Electric, which he owned until 2006, when he sold it to Agri Industries.
Gary is survived by his wife, Anita; his daughter, Jennifer of Williston, N.D.; son, Michael (Mary) of Highlands Ranch, Colo.; and daughter, Amie (Mark) Peterson, of Glasgow, Mont. He leaves five grandchildren, Nicholas, Tristin, Hannah (Nathaniel), Abby, and Teagan. He is also survived by his sisters, Arlene, Merilyn and Gayle; and brothers, Thoral, Carroll, and their families; as well as many nieces and nephews.
He was preceded in death by his parents, Arleton and Alice; and his brother, Sherwin.
Gary was a kind and generous man who loved his family and was characterized by his Christian faith. He will be missed by all who knew him. He had a unique impact on his caregivers at the Leonard P. Nelson Cancer Center in Williston as well as the CHI Hospice staff. His family would like to thank the staff of those facilities for such wonderful care.
Memorials may be donated in Gary's name to the Leonard P. Nelson Center or CHI Hospice.
A Funeral Service was held Saturday, May 23, 2020, at the Life Church Assembly of God in Williston, with Pastor Chris Walstad officiating.
Burial was at Riverview Cemetery, Williston.
Fulkerson Stevenson Funeral Home of Williston is assisting the family. Friends may sign the on-line register and give their condolences at www.fulkersons.com.
---