June 2, 2020
Lorraine Moran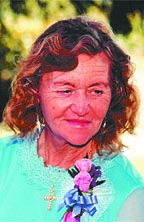 Lorraine J. Moran, 92, passed away on Wednesday, May 20, 2020, at her home in Alexander, N.D.
Lorraine was born by the Yellow Stone River on the North Dakota side Jan. 7, 1928, to Katherine and John K. "Jack" Bergstad. Growing up she helped her Mother and Father on the farm taking care of animals, putting in crops and harvest. That is where she got her love for farming. She attended a small country school until she went to high school in Alexander. Lorraine met Eugene Moran, and they were married Oct. 25, 1947. They had their first son Clayton Eugene Moran Oct. 8, 1948. They stayed in North Dakota for 9 years and then moved to California where they lived on a small farm. They had 3 more children, Micheal Lewis Moran, Gary Lee Moran and Susan Jane Moran. Lorraine was widowed in 1964. She stayed in California and continued to raise her children alone and never remarried.
While living in California she had many jobs, housekeeper, cook, and she dealt cards at the local pub. But most of all she was a "MOTHER." In 1980 Lorraine moved back to North Dakota to work her parents farm, that is where she was the happiest and stayed there.
Lorraine was a very loving and giving person. She helped anyone in need even when she went without. She raised her granddaughter Brandy Opatz from the time she was 2 years old. She also raised 4 more grandchildren Rocky Moran, Dusty Moran, Misty Moran and Windy Moran.
Lorraine's love and compassion is beyond compare. She is known to many as Grama Lorraine. She has touched many lives and will be forever missed.
She is survived by her children, Micheal Moran, Gary Moran and Susan Bernier; her brother, James Bergstad; and many grandchildren, great-grandchildren, nieces and nephews.
Lorraine was preceded in death by her parents, John K. and Katherine Bergstad; her husband, Eugene Moran; her son, Clayton Moran; her brothers, Tom Bergstad, Virgil Bergstad, and Clayton Bergstad; her sisters, Nytel Laughlin, Leora Bergstad, Helen Veinna, and Charlotte Calvery.
Graveside services for Lorraine were held at 10 a.m. (CST), Tuesday, May 26, 2020, at the Rawson Cemetery, rural Alexander, N.D., with Pastor Garret Gudmunsen officiating. Visitation was held Monday, May 25, 2020, from 1 p.m. to 5 p.m. (CST) at the Fulkerson-Stevenson Funeral Home in Watford City, N.D. Fulkerson-Stevenson Funeral Home is caring for the family.
---