December 1, 2021
Gerald Golberg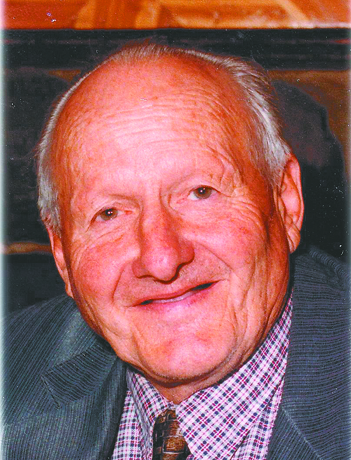 Gerald "Jerry" Patrick Golberg peacefully passed away on Nov. 19, 2021, after having received the last sacraments of the Roman Catholic Church. Surrounded by his loving family and friends praying the rosary, he blessed himself with the sign of the cross and clung to his rosary.
Jerry was born in Rochester, Minn., to Selmar Leonard Golberg and Ethel Mae Darmody on March 17, 1927. He lived with his Uncle Otto and Aunt Marie Golberg from 10 years old to 14 years old in Wild Horse, Colo. At the age of 14 he went back to Rochester, Minn. and attended Lourdes High School and graduated with high honors in 1945.
He was drafted in the Army at the end of World War II. He served for 18 months and received an honorable discharge. He then went on to work for the Rochester Dairies for 28 years. On Nov. 29, 1952 he married Elizabeth "Betty" Louise Chase.
Jerry and Betty raised 8 children. In 1968 Jerry moved his family to Powers Lake, N.D. There, Jerry worked for Our Lady Queen of the Prairies Shrine, Powers Lake Creamery, and started his own company - Golberg Dairy Equipment. In the fall of 1973, he purchased Watford City Creamery and in 1974 he moved the family to Watford City, N.D. After 2½ years, Jerry shut down the creamery and went full time in buying and selling used dairy equipment. In the fall of 1978, Jerry purchased the Red Trail Campground of Medora, N.D. and moved there in the spring of 1979. Jerry continued with his Golberg Dairy Equipment business. Jerry and Betty were "snowbirds." For 33 years they lived in Tucson, Ariz., during the winter months and lived in Medora, N.D., in the summer. Shortly after Betty passed away, Jerry moved to St. Marys, Kan., and continued with his Golberg Dairy Equipment business.
Jerry enjoyed working. He always said, "If you like what you are doing, it's not work." He attributed his success to God. He often said, "I'm not smart enough to know what I am doing, but God knows what He is doing with me." He was always happy about the fact that he taught all of his children how to work.
Jerry is survived by his 8 children, Patrick Gerald Golberg (Sally), Watford City, N.D., Mary Louise Schneider, Medora, N.D., Joseph "Joe" Matthew Golberg (Bonnie), Belfield, N.D., Mark "Olie" Olaf Golberg (Cecelia), Medora, N.D., Daniel Luke Golberg, Bismarck, N.D., John Robert Golberg (Cory), Bismarck, N.D., Rose Marie Zapp (Paul), St. Marys, Kan., Nancy Ann Larson, Draper, Utah; sisters, Jean Born (Richard), Rochester, Minn, Janice Abjain, Fullerton, Calif.; in-laws, Jerry and Jeanie Chase, Tucson, Ariz.; many nieces and nephews; 23 grandchildren; 59 great-grandchildren; and 1 great-great-granddaughter.
He was preceded in death by Ethel Golberg (mother), Selmar Golberg (father), Elizabeth Chase (wife of 60 years), Shirley Winslo (sister), Robert Golberg (brother), a grandson Anthony Schneider, 2 nephews and a niece.
Requiem mass was held on Nov. 24, 2021, at Assumption Chapel in St Marys. Interment was held in Our Lady of Peace Cemetery. A rosary was recited on Nov. 23, 2021, at the church.
---