October 4, 2022
Glenn Pittsley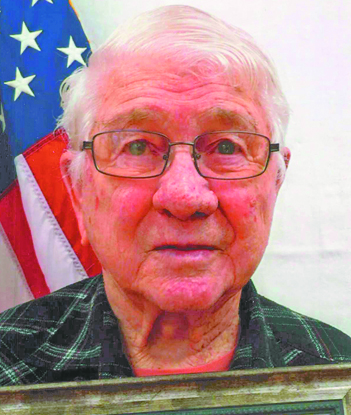 Glenn Walter Pittsley was born Nov. 5, 1923, to Ernest and Irene (Kummer) Pittsley in Berg, N.D., in McKenzie County. He was raised on the family farm and attended country school through the eighth grade. He enlisted in the U.S. Army on Jan. 17, 1945. He served in World War II in Japan as a truck driver. He was honorably discharged on Oct. 21, 1946. He returned to the family farm to help his father and also worked for local farmers in the area. On June 18, 1950, he married Betty Jore in Sidney, Mont. They made their home in Watford City where they raised their 10 children. In March of 1952, he started working for the N.D. Highway Department in Watford City and worked there for 34 years before transferring to the Bowman District for two more years. He retired in 1988, after 36 years of service.
On Feb. 14, 1986, he married Rosalie (Engesser) Stein in Bridger, Mont., they made their home just north of Bowman, N.D. Glenn built a shop and planted several rows of trees on the property and loved grooming and decorating their yard. He loved gardening and always planted a large garden every year through age 93. He canned all his produce and made the best pickled beets and tomato juice. At age 94, he was preparing his garden for planting when he had a bad fall and had brain surgery. His mobility was affected and he had to be in a wheelchair. Christmas was his favorite holiday, he always decorated the inside and outside of the house and the yard. He made several of the decorations himself. He collected horse figurines for several years. Many times, he would go to auctions sales and find a box of junk that had one figurine in it so he would buy the box. The spare bedroom in his house was affectionately called the horse room as it was filled with his collection.
Glenn enjoyed fishing and camping with his family. The family all knew that Father's Day weekend would be spent at the lake. He went deer hunting with family members every fall and harvested his last deer when he was 90 years old. He loved hunting in the badlands. His favorite hobby was dancing. When he would attend a dance, he would spend almost the entire evening on the dance floor. He enjoyed going to rodeos and attended the NFR in Las Vegas several years with family members.
In June of 2018, he entered the Southwest Healthcare Nursing Home in Bowman and resided there until the time of his death.
Glenn is survived by his wife, Rosalie Pittsley of Bowman; his sons, Donald Pittsley and Jim (Kristy) Pittsley of Watford City; his daughters, Karen (Dale) Hagen of Arnegard, N.D., Ellen (Jim) Jefferson of Mandan, N.D., and Nancy (Dennis) Cornwell of St. Thomas, N.D.; daughters-in-law, Mary Pittsley of Bismarck, N.D., Sandee Pittsley of Killdeer, N.D., and Merlita Pittsley of San Diego, Calif.; son-in-law, Dwight Norby of Keene, N.D.; 18 grandchildren; and 22 great-grandchildren; two sisters, Violet Primmer of Post Falls, Idaho and Doris (John) Walters of Puyallup, Wash.; sisters-in-law, Jean Pittsley of Libby, Mont., and Jane Pittsley of Rathdrum, Idaho, and several nieces and nephews; He is also survived by Rosalie's children, Shannon (Jim) Lewton, Theresa (Mark) Stinchfield, Bonnie (Eric) Comier, Allen (Patti) Stein and Jim (Jamie) Stein; his sisters-in-law, Faye Burke, Sharon (Larry) Kromarek and Roberta Engesser; and brother-in-law, Robert (Mary) Engesser.
He was preceded in death by his sons, David Pittsley, Leroy Pittsley and Glenn (Bub) Pittsley; his daughters, Della Norby and Louise Arnold; son-in-law, David Arnold; his first wife, Betty Pittsley; his bothers, Robert, Neil, Ernie, Arlo and Dale Pittsley; his sisters, Isabel Menge, Phyllis Knecht and Maybell Judkins; his parents; and several relatives and friends.
Visitation was held Friday, Sept. 30, 2022, from 12 to 6 p.m. with a family service at 6 p.m. at the Fulkerson Stevenson Funeral Home in Watford City. Funeral services were Saturday, Oct. 1, 2022, at 11 a.m. at the First Lutheran Church of Watford City. Pastor Garrett Gudmunsen officiated.
Graveside services were held, Oct. 3, 2022, at 1 p.m. at the North Dakota Veterans Cemetery, 4606 Highway 1806, Mandan, ND, 58554. Military Honors were performed by the U.S. Army Honor Guard.
Arrangements are under the direction of Fulkerson Stevenson Funeral Home of Watford City.
---