October 27, 2020
Herman Thompson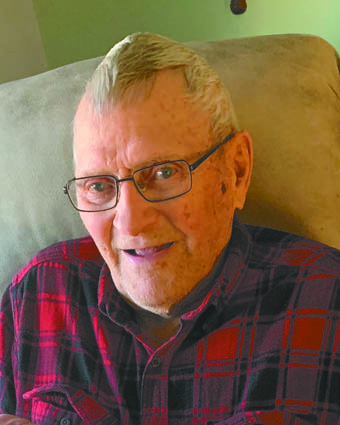 Herman Thompson, 88, of Watford City, N.D., passed away on Sunday, Oct.18, 2020, at his home in Watford City, N.D. Herman Carlyle Thompson was born June 27, 1932, in Watford City, the son of Herman and Violet (Sullivan). Carlyle attended school in Watford City. On Nov. 3, 1957, Carlyle was united in marriage to Anna Marie Thompson in Watford City.
As a teenage boy Carlyle worked for farmers and neighbors. Carlyle then helped build the church in Arnegard. Carlyle joined the army at 17 years old. He started a career of landscaping and construction. Carlyle was a mechanic and truck driver for Koch. After retirement Carlyle enjoyed his time working for local farmers.
Carlyle enjoyed riding horse, attending auction sales, attending rodeos with his wife Anna, loved airplanes, and trying his luck at the casino. Carlyle and Anna enjoyed going out dancing with friends, and also the wagon train. Carlyle was a member of the American Legion.
Carlyle is survived by his son, Jimmy Thompson, Watford City, N.D.; brothers, Douglas (Debbie) Thompson, Watford City, N.D.; David Thompson, Watford City, N.D.; Robert Thompson, Williston, N.D.; sister Marylin Casky, Douglas, Wyo.; his two grandchildren, Brett (Kayla) Wold, Watford City, N.D.; Kyla (Gary) Beagles, Watford City, N.D.; two great-grandchildren, Matthew and Brooks Beagles, Watford City, N.D.; son-in-law, Duane Wold, Watford City, N.D.; and numerous sisters and brothers-in-law, nieces and nephews.
Carlyle was proceeded in death by his wife, Anna Thompson; parents, Herman and Violet Thompson; his daughter, Peggy Wold; infant son, Danny Thompson; sisters, Marian (Carl) Olson, Alice (Curtis) White, Patsy (Eddie) Paul; brothers, Leonard (Loretta) Thompson, Ronnie Thompson; sister-in-law, Kathy Thompson.
Funeral services were held Friday, Oct. 3, 2020, at 10 a.m. at First Lutheran Church in Watford City, N.D. with Pastor Garrett Gudmundson officiating. Interment was held in Schafer Cemetery. Fulkerson-Stevenson Funeral Home is caring for the family. Remembrances, condolences and pictures may be shared with the family at www.fulkersons.com.
---