September 22, 2020
Ira Lawrence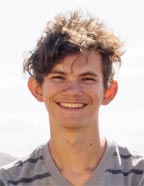 Ira passed away on Saturday, Sept. 5, 2020, Sidney, Montana.
Ira David Lawrence was born on Oct. 20, 2006, in Mount Vernon, Wash., to Jesse and Julie Lawrence. He was the oldest son and best big brother to Simon, Asher, Jael, Ezra, and Renna Lawrence.
Ira was born into a large family on both sides. Jesse and Julie each had 8 siblings and the aunts, uncles and so many cousins added such joy to his life. He moved to Watford City, N.D., when he was 2 and grew up not only surrounded by family, but in a close church family as well.
His favorite days included people and it was an added bonus if it was at the skate park. He also liked his slow days where he would give his full attention to his latest book. He loved to read! He kept a journal and it is a prize and a gift to his family. He was smart and enjoyed school and excelled at Latin! Ira's quiet spirit was evident to all and his genuine smile won you over instantly. His wild hair, not unlike his dad's, was accompanied by a soft heart and deep emotions. He was thoughtful and considerate, never wanting to take the last of the oatmeal or the last banana on the counter.
He took his role of big brother seriously and was a great help to his mom, keeping the house clean and getting after his brothers to do the same. His loving care for them was evident to all and his siblings loved and looked up to their big brother. He brought so much joy to the household, always teasing and wrestling with his brothers, often frustrating his mother! He could also keep all of them in line in the church row on Sundays! One day, Ira was struggling with the messy house and Julie was mentioning that in heaven things will be perfect, things won't be messy and you don't have to worry about any of that. Ira had a look of longing on his face and said "I can't wait to get to heaven."
Ira loved Jesus. He exclaimed in his journal after church one day "Oh, how He sustains me!" Ira knew that "for where your treasure is, there your heart will be also."
On Saturday, Sept. 5, Ira woke up early, excited to go to a birthday party with friends in neighboring Richland County, Mont. They were enjoying the water on a sunny day, wading and walking in shallow water; seeing how far across the river they could go, when the shallow water unexpectedly turned swift and deep, our lives were changed forever. While we mourn his loss, we rejoice that he is with the One who knit him together in his mother's womb and we who are joined together in Christ know that we will see him again one day.
Ira was preceded in death by his grandma, Linda Marie Stiles; and great-grandparents, John Harrell and Mamie Stiles, Frank and Alva Lawrence, and Harris and Gloria Cornelius.
Ira is survived by his parents, Jesse and Julie Lawrence; and siblings Simon, Asher, Jael, Ezra, and Renna Lawrence; grandparents, David and Mary Lawrence and Dean and Diane Stiles; aunts and uncles, Cori and Grayson Long, Rebekah and Dale Engebretson, Nicole and Shane Shannon, Levi and Rachel Lawrence, Laura and Joey Olson, David and Abigail Lawrence - all of Watford City, N.D., Amber and Brock Lindberg, Bozeman, Mont., and Karmen and Nicholas Baker, West Chester, Pa., Jason and Rhea Stiles, Chelan, Wash., Kristy Stiles, Yucca Valley, Calif., Bethany Stiles, Joshua Tree, Calif., Jeannette Stiles, Mount Vernon, Wash., Benson and Tessa Stiles, Sedro-Woolley, Wash., Kari Stiles, Mount Vernon, Wash., Marissa Stiles, Lyman, Wash., Kathryn Stiles, Sedro-Woolley, Wash.; and an absolute abundance of cousins. His numerous cousins truly were one of his greatest joys and he enjoyed a special relationship with them.
Ira will be dearly missed by all who knew him, but we are comforted that because he trusted in Christ, he is indeed in the presence of Christ, from this time forth and forevermore.
Funeral services for Ira David Lawrence, 13, of Watford City, N.D., were held at 11 a.m., Wednesday, Sept. 16, 2020, at the Assembly of God Church in Watford City with Pastor Sheldon McGorman officiating. Interment was held in the Garden Lutheran Church Cemetery, rural Watford City, N.D., under the care of the Fulkerson-Stevenson Funeral Home of Watford City. Visitation was held on Tuesday, Sept.15, 2020, from Noon to 5 p.m., at the funeral home in Watford City. Remembrances, condolences and pictures may be shared with the family at www.fulkersons.com.
---