September 22, 2020
LaVanche Maloney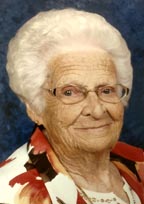 LaVanche "Van" Maloney, 105 years young, passed away Friday, Sept. 4, 2020, at the Good Shepherd Home in Fostoria, Ohio. Born April 14, 1915, in Grand Forks, N.D., she was a daughter of Fred and Grace (Walworth) Travers.
Van graduated from the East Grand Forks High School in North Dakota in 1934 and on July 26, 1939, she married William Maloney in East Grand Forks. They were married for over 41 years until his death on January 30, 1981.
She was involved in many organizations in Watford City, N.D., and planned many social events. She and her husband owned Maloney's Café in Watford City from 1954-1976 and she worked as a bookkeeper for O.K. Implement in Watford City until she retired in 1999 at the age of 84.
Van moved to Ohio in 2007 to be closer to her family. She resided in Fostoria, Ohio and within the last 5 years resided at Good Shepherd Home in Fostoria. She enjoyed many family gatherings and outings. She had made many friends over her 105 years and will be missed by many. Van will be laid to rest back home in Watford City, N.D., next to her loving husband Bill.
Surviving are daughters, Judy (Ted) Ward of Billings, Mont. and LaVonne (Ron) Havener-Maloney of Draper, Utah; sister, Aldyne Shaver, who is 103 years old of Surprise, Ariz.; grandchildren, Bill (Joanne) Ward, Utah, Lisa (Kurt) Timmons-Ohio, Kim (Dan) Schell-Colorado and Michael (George West) Pratt, Ohio; great-grandchildren, Cody Ward, Rachel (Devon) Scriber, Billy (Abbi) Ward, Derik (Kara) Timmons, Sarah (Josh) Fork, Colin (Taylor) Timmons, Whitney (Corbin) Dunn, Alex (Katherine) Schell and Stephaine Schell, Elijah Pratt, Liam Pratt, Ryan Pratt, and Ava Pratt; and great-great-grandchildren, Caroline Fork, Aria Ward, Claire Timmons and another one on the way in January.
Van is preceded in death by her parents; husband; daughter and son-in-law, Donna (Mike) Pratt of Gibsonburg; and siblings, Omer, Ruth, Gertrude, Grace and Freddie.
Visitation was held on Tuesday, Sept. 8, 2020, 10 a.m., at the Gibsonburg United Methodist Church, Faith Campus where funeral services began at 11 a.m. Social distancing and masks were required. Graveside services will be held in Watford City, N.D., at Schafer Cemetery, on Thursday, Sept. 24, 2020 at 1 p.m.
The family wishes to extend their sincere thanks to Good Shepherd Home staff for taking such wonderful care of Van during her last 5 years residing there and for the support they have shown the family. Memorials may be given in her memory to the Good Shepherd Home in Fostoria, Ohio, or Gibsonburg United Methodist Church in Gibsonburg, Ohio. Local arrangements have been entrusted to the Herman-Veh Funeral Home and Cremation Services, Gibsonburg. To view Van's Video Tribute or to express online condolences, please visit, www.hermanfh.com, or at www.fulkerson.com.
---