January 12, 2021
James Stevenson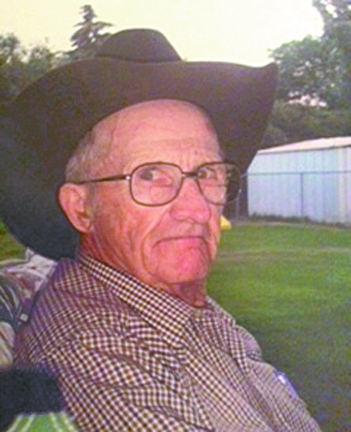 James Harold "Steve" Stevenson May 23, 1929-Dec. 29, 2020. Dad was born in Alexander, N.D., on May 23, 1929. He was raised on his granddad's ranch on Squaw Gap, Redwing/Haydraw area, N.D., near Sydney Mont. He was the fourth of 11 children born to Hod Stevenson and Laura Grace (Shibley) Stevenson. The first two passed as babies from "milk fever." His older brother, Hugh William, was killed in a car wreck in May of 1975.
Jim enlisted in the Army in November of 1950. Dad married our mother, Karen Louise Wells, on March 31, 1951, in Miles City, Mont. Five days later Jim was deployed to Korea. He served 10 months on the front lines as a Communication Specialist. He returned to the states in August of 1952.
After his return to civilian life, Jim and Karen, and daughter Donna who was born while he was away at war, moved to Keene, N.D., to the Henderson Ranch. Leslie and Danny were born while Jim and Karen and family lived there. The family then moved to the Kennedy Ranch at Mandaree, N.D., and then moved to Powers Lake, where Jim worked for Ron Creighton, Karen's Uncle who ran a dairy farm there. Our brother Wade Lee was born on May 19, 1959. A week out of the hospital and Jim moved the family to the Spring ranch on the Figure 4. It was there that Wade Lee passed on Jan. 21, 1960. Times were tough for this Stevenson family, but we worked hard and always made the best of things. We had each other to rely on and had many good times as well.
In April of 1960 Jim and family relocated to Deer Lodge, Mont., to work for the Comico American Phosphate Mine. He was nearly killed in a mine accident in 1962. In June of 1967, Jim moved the family to Wisdom, Mont. The family lived at the Ferris Ranch house and Jim took a job working for the Mel McDowell family.
Jim did many different jobs over his 91 years of life. He broke horses, farmed, milked cows, cut lumber, built fence. His greatest love next to his family, was breaking horses and working on the ranch. The cowboy life. In fact, he was just horseback two years ago in the spring, up at the North Fork Ranch west of Wisdom and heeled a calf that needed doctored and tagged!
Jim loved the Big Hole. He loved riding the meadows, hunting, fishing, fencing. Just about anything outdoors. He loved a good meal, chicken fried steak, mashed potatoes and gravy, and peas. He loved a good piece of pie and often could be found at the Crossing Bar & Grill in Wisdom enjoying his favorite, pumpkin pie with a big dollop of whip cream or ice cream on top. Jim also like to socialize. He could often be found at the Antlers Saloon in Wisdom discussing the day's work with the local cowboys while enjoying a Budweiser or a Ten High Whiskey Ditch.
Jim was known throughout the area as "Gentleman Jim, or Steve," which was short for Stevenson.
Jim was preceded in death by his parents, Laura Grace and Harold Stevenson; his siblings; Hugh (Shib) Stevenson, Walter (Walt) Stevenson, Jerry (Bud) Stevenson, Winnifred (Loulabell) Dschaak, Sharon Stevenson, Patrick Stevenson, Robert Henry "Bob" Stevenson and two siblings who died right after birth; his two sons, Wade Lee Stevenson and Leslie James Stevenson; and his beloved grandson, Jason (Jake) Neil Stevenson.
Jim is survived by his siblings, Patricia/Sis (Pete) White, Adam "Mike" (Katherine) Stevenson, and Katheryn "Jeppy" Rutledge; his daughter, Donna Louise (Mike) Campbell of Battle Mountain, Nev., her son Danny Ross Stevenson (Serena) of Wisdom, Mont.; daughter, Paula (Buzz) Kirkpatrick of Jackson, Mont.; also his grandchildren, Dusti (Aaron) Gilbert of Battle Mountain, Nev., Chancy (Sheila) Campbell of Wisdom, Mont., Tharon Campbell (Stacey) of Jackpot, Nev., Lacey Stevenson of Billings, Mont., James "Jimmer" (Zane Burns) Stevenson of Wisdom, Mont., Lori Wilke of Wisdom, Mont., Lani (Eric) Leonard of Winslow, Ariz., Jennifer (Rusty) Kallem of Billings, Mont., Sarah (Dan) Reinhold of Pocatello, Idaho, Megan (Robert) Blake of Dillon, Mont., and Holly (Spencer) Sorensen of Belgrade, Mont., Arthur (Harlie Smith) Gutierrez of Bozeman, Mont., Lydia (Martell Parks) Gutierrez of Menifee, Calif., Rosanna Gutierrez of Missoula, Mont; and 29 great-grandchildren; and two great-great grandchildren.
A celebration of life was held on Saturday, Jan. 9. About 4:30 or 5 p.m. we will all toast Jim at the Antlers Saloon in Wisdom, then at 6 p.m. at the Crossing Bar & Grill, we will all do a toast to "Gentle Jim," a great friend, a great cowboy, a great man. A private family and close friends scattering of his ashes at Stone Lake, up Doolittle, will take place this summer, date to be announced. In lieu of flowers, please consider donating to The Rocky Mountain Care Center, 30 South Rodney, Helena, MT 59601. They took such great care of him; he was very comfortable and happy there.
Please visit www.buttefuneralhome.com to offer a condolence or share a memory of James. Axelson Funeral and Cremation Services has been privileged to care for James and his family.
---