September 5, 2023
Janice Kolding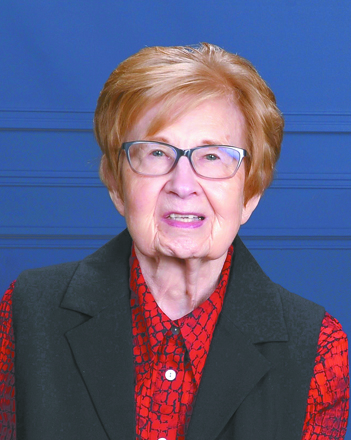 Janice "Jan" Eileen Nordeng Kolding, 83, died Friday, Aug. 25, 2023, at home under the care of her family and Hospice of the RRV, after a brave 16-month battle against cancer.
Jan was born on March 30, 1940, in Watford City to Enoch and Bernice Wold Nordeng. She was their first child. Janice grew up on the family farm northeast of Watford City. She attended and graduated from Wilcox Rural School and Watford City High School.
She married Lt. David Kolding on Dec. 29, 1961, at the Banks Lutheran Church. After graduating from NDSU in May 1962 with a major in Home Economics Education and a minor in Composite Science, she joined David in Erlangen, Germany, where he served with the 35th Medium Tank Battalion, 4th Armored Division. While living overseas, Jan traveled to France, Switzerland, Holland with friends, and later, with David and their daughter, Jennifer, traveled to Scandinavia to visit her and David's homeland countries and relatives.
Their daughter Jennifer was born in 1963 at the U.S. Army Hospital in Nuremberg, Germany. After completing his service in Germany, David and Jan moved back to North Dakota. Jan taught at schools in Arthur, Hope, and Wahpeton. Their son Jeffrey was born in Breckenridge, Minn. in 1968. David worked in agricultural sales, and financial services.
Jan had many lasting friendships from her time at NDSU, and from being an active member of Wahpeton Mrs. Jaycees, PTA, and League of Women Voters. She was also active with 4-H, serving both as a leader and as a judge.
In August of 1978 the family moved to Bismarck. Jan worked in Personnel/Training at Sears for 13 years, Human Resources at Cloverdale Foods for three years, and retired from her professional career after 10 years at Human Resource Management Services in N.D. State Government at the Capitol as a Human Resources Officer.
In Bismarck, her interests were reading, and sewing quilts - mostly for Lutheran Work Relief, local charities, and family members. She had been an active member of the Central Dakota Human Resource Association, Bismarck-Mandan Mayor's Committee for the Employment of People with Disabilities, Bismarck Doll Club, Bismarck Sertoma Club, Sons of Norway, Women's Bible Study and Quilters Groups at every church that she had belonged to over the years.
Her passion for music, art, and lifelong learning, inspired her children to play musical instruments, unleash their creativity, and love books. Family trips to the library were outings we all looked forward to. Anyone that knew her, knew of her love of Elvis music, her devotion to NDSU, her Norwegian ancestry, history, and chocolate.
She is survived by her husband of 62 years, David; her daughter, Jennifer (Gordy) Bentz; son, Jeffrey Kolding, all in Bismarck; her brother, Mervin, and sister-in-law, Diane of Fargo, N.D.; niece, Amy Nordeng, her children, Ryelyn and Joey of, Vienna, Va., and nephew, Erik Nordeng (Lisa Skog), and their children, Gavin and Olivia, of Fargo. She is also survived by brother-in-law, Mat (Julia) Kolding; sisters-in-law, Margaret (Calvin) Swanson, Dorothy Gilbertson, Virginia Blood; and many nieces and nephews on the Kolding side of the family.
In 2009 Jan and Dave were very happy to welcome into their family son-in-law, Gordy Bentz and his five adult children Gordy (Jeni) Bentz, Rob (Tina) Bentz, Kristopher (Timber) Bentz, Tyler (Sara) Bentz, and Ashley Bentz; and 11 grandchildren.
She had a special place in her heart for all of her many cousins and their children, including Norma Sue Lundstrom, and Myrna Dahl, who were like sisters to her.
Jan was preceded in death by her parents, Enoch and Bernice Wold Nordeng; mother and father-in-law, MB and Alma Kolding of N.D. Larimore, N.D.; her sister, Denise; brothers-in law, Vernon, Ken Kolding, and Ron Gilbertson; grandparents, Erick and Rena Holme Nordeng and Martin August and Ida Aasen Wold, all of Watford City; along with many aunts, uncles, and cousins from both sides of her family.
Rest in Peace Jan, your loving heart, acts of kindness, and service to others have touched many lives. You Made a Difference. We miss and love you beyond words, and are left in awe of your courage, faith, and positive spirit.
Undesignated memorials will be donated to the Food Bank, Dakota Boys Ranch, and Lutheran Camp of the Cross.
To share memories of Jan and sign the online guestbook visit, www.eastgatefuneral.com.
A funeral service was held at 11 a.m., Wednesday, Aug. 30, at the Lord of Life Lutheran Church in Bismarck. Pastor Beth Walch officiated. Viewing was one hour before service.
Interment was held at 1 p.m., Thursday, Aug. 31, at the Banks Lutheran Church, northeast of Watford City. This was her home church and where her parents and paternal grandparents are buried. She loved the views of the hills, buttes, and valleys of her home area, and the smell of sage.
---