September 19, 2023
Lucille Kennedy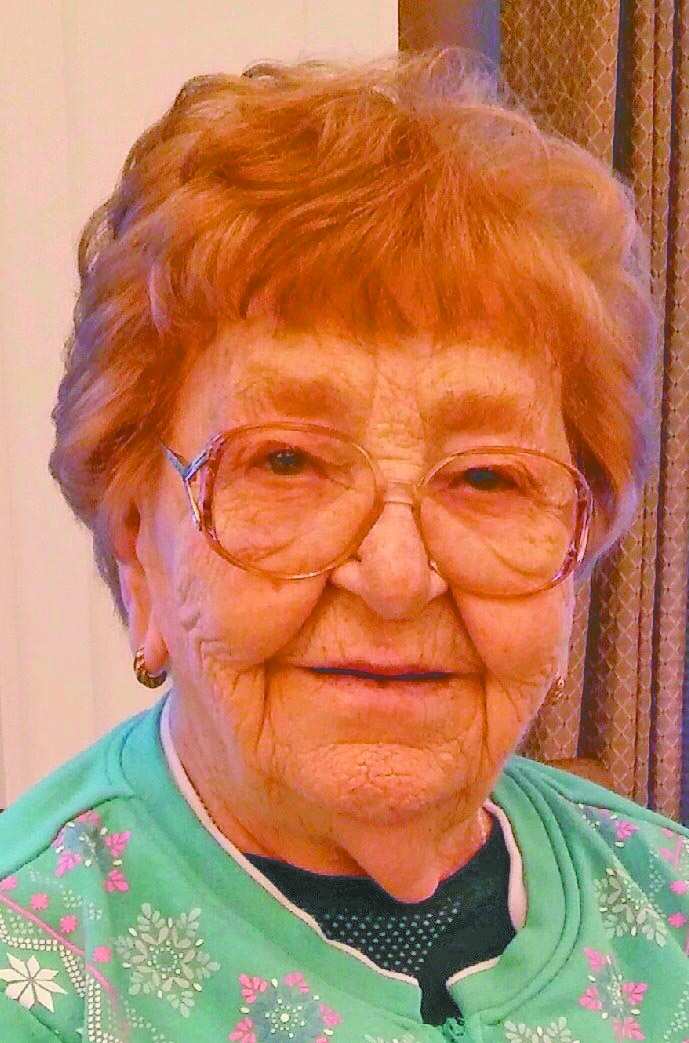 Lucille "Lucy" Kennedy, 92, Jamestown, N.D., passed away peacefully one month before her 93rd birthday on Sunday, Sept. 3, 2023, at Eventide, Fargo, N.D.
Lucille L. Kennedy was born Oct. 2, 1930, on the family farm, north of Fredonia, N.D., in Logan County to Emil and Emma (Burkle) Hehr. She attended country school thru 8th grade and helped on the family farm. She later received her GED and went on to Valley City State University.
In addition to raising the children she was employed as a waitress by Palace Café, a cook at Jamestown Café, a waitress at the old Depot Café before it was moved to the Frontier Fort, a housekeeper at the Jamestown Hospital, and a bus driver for the Senior Citizen Center. She was also employed at Frontier Fort during a few summers. In addition, on the side she sold Stanley Home Products, holding home meetings for years.
Lucille married Melvin Torns Kennedy on April 17, 1952, in front of the Justice of the Peace in Stutsman Colo., She lived in Jamestown for a few years before moving to Esmond, N.D. In 1960, they returned to Jamestown. They were blessed with five sons and three daughters oldest to youngest; Richard (Yolanda) Kennedy, Fargo, N.D., Vicki Hoffer, Jamestown, N.D., Bonnie (Darrel) Dewald, Jamestown, N.D., Kenneth (Laurie) Kennedy, West Fargo, N.D., Laurie (James) Abeyta, Holmen, WIS., Michael Kennedy, Fargo, N.D., Thomas (Wendy) Kennedy, Petaluma, Calif. and John (Ann) Kennedy, West Fargo, N.D.
Lucille was a member of St. John's Lutheran Church, Jamestown. Confirmed and baptized at Martin Luther Lutheran Church, Fredonia, N.D. She loved gardening, sewing (she sewed all the girl's clothes for church and school) and being a member of Germans from Russia Society was one of her greatest joys.
She is survived by all eight children; 23 grandchildren; nine great grandchildren; and seven great-great-grandchildren; three siblings, Larry (Maureen), Hehr, Fredonia, N.D., Donald Hehr, Miramar, Fla., and sister, Diane Hehr, Fredonia, N.D.; along with many nieces and nephews.
Lucille was preceded in death by her parents; five brothers, (Lester, Alvin, Dillard, Thilmer and LeRoy); sister, Euella Wolf; and one niece, MaryJo Wolf.
The family received friends from 4 p.m. to 6 p.m. with story sharing at 5 p.m., Sunday, Sept. 17, 2023, at the Eddy Funeral Home in Jamestown, N.D. Funeral service were 2 p.m., Monday, Sept. 18, 2023, at St. John's Lutheran Church, Jamestown, N.D., with Pastor Erik Weber officiating.
Eddy Funeral Home is in charge of arrangements.
---