December 1, 2020
Lillian Gravos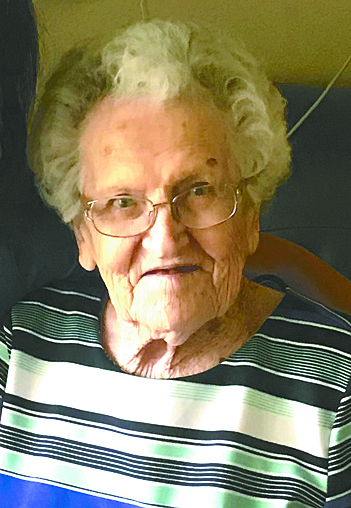 Lillian Gravos, 98, formerly of Watford City, died on Nov. 18, 2020, in Bismarck.
Lillian Margarette (Gravos) Gravos was born on September 5, 1922 to Edgar and Effie Stedman Gilstad of Keene, N.D. She was the fourth child of 13 children. She attended grade school in Berg, N.D. As a teenager, Lillian worked for several families in the Williston and Watford City areas, and ended up hiring on as a cook for Henry Gravos where she met Harold Gravos. Harold and Lillian were married in Sidney, Mont., on Jan. 8, 1944.
Lillian was a member of the American Legion Auxiliary, served as inspector on the election board for many years, was a member of the Ladies Aid and Homemakers, and in her later years when she moved to Watford City, she was a seamstress for many people. She was well known as "the doughnut lady" as she made doughnuts for extra money. She very much disliked being idle.
Lillian entered the Good Shepherd Home in July of 2015 and then Missouri Slope Care Center in Bismarck in September of 2017. She enjoyed company and always had things made to go with coffee and lemonade.
Lillian was preceded in death by her parents; husband, Harold; 11 siblings; her son, Ralph Gravos; grandchildren, Richard Scott Freed, Stacey Lynn Freed, Dominic Gravos; and great-grandchildren, Logan and Colby Freed.
She is survived by her sister, Eleanor Metzler of Williston, N.D.; daughter, Irene Freed of Williston, N.D., and her children Collette Bailey, Alan (Kristie) Freed, and Aaron and Corey Freed; daughter, Judy Opsta of Mandan, N.D., and her children Jan (Mike) Lynch, Jared (Tanya) Torstenson; son, Duane (Sharon) Gravos of New Town and their children Jordan, Darrick and Nathan Gravos; son, Lynn (Marilyn) Gravos of Minot, N.D., and their children Karri, Jason and Jennifer; and son, Harlon (Angie) Gravos of Newcastle, Wyo., and their son Rory; grandson, Kelly (Joy) Gravos; and numerous great and great-great-grandchildren.
Graveside services were held at 2 p.m., Wednesday, Nov. 25, 2020, at Zoar Cemetery in rural Arnegard, N.D. Fulkerson-Stevenson Funeral Home of Watford City is caring for the family. Visitation was held Wednesday, Nov. 25, 2020, from 9 a.m. to 12 p.m. at Fulkerson-Stevenson Memorial Chapel in Watford City, N.D.
---