November 2, 2021
Marjorie Gustafson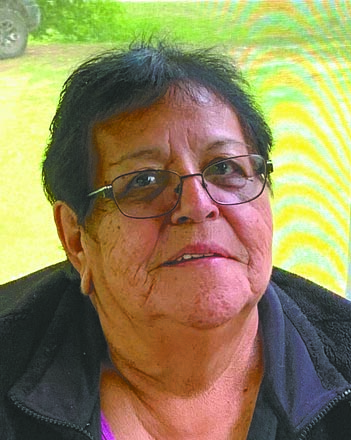 On the morning of Sunday, Oct. 24, 2021, Marjorie Cecelia Gustafson (Moran) passed away peacefully in her home with family by her side after a year-long battle with cancer. Marjorie was born on March 20, 1946, in Elbow Woods, N.D., to Phillip and Dorothy Moran. Growing up on the Fort Berthold Indian Reservation, Marjorie attended multiple schools and graduated from Flandreau Indian School in 1967 in South Dakota. She attended college in California, learning to make computer components. Margie also traveled to various states throughout her 20's and loved to tell the stories of her adventures to her daughters.
Margie met Verner in New Town, N.D., and married on April 6, 1973. From New Town, they moved to Williston briefly and then Watford City, where they lived since 1979. Together they raised four daughters, Michelle, Stella, Carla, and Marie.
Margie loved caring for other people and always put others' well-being ahead of herself. She retired from the Good Shepherd Home as a Certified Nurses Aide after working there for over 20 years.
During retirement Margie loved to talk with her sisters and daughters on the phone, taking care of her house and her yard, and going out for dinner with friends. She enjoyed cleaning, baking, ceramics, sewing, and sci-fi shows.
Margie is survived by her daughters, Michelle (Rick) Larson, Stella (Greg) Berquist, Carla (David) Schwartzenberger, and Marie Gustafson; her grandchildren, Mason Larson, Evan Larson, Peyton Larson, Morgan Berquist, Cooper Berquist, Andrew Trotter, Adam Trotter, Marshall Smith, and Mattie Smith; her sister, Cathy Lloyd; her brother, Vincent Moran; and many cousins, nieces, nephews, and friends. Margie was preceded in death by her parents, Phillip and Dorothy Moran; infant brother, Moran; brother, Wayne Moran; sister, Phyllis Williams; and husband, Verner Gustafson.
The senior Pallbearer was Thomasina Mandan and Pallbearers were Frank Vandall, Wayne Vandall, Nate Lloyd, Rick Larson, Greg Berquist and David Schwartzenberger.
Visitation was on Oct. 27, 2021, from 9 a.m to 11 a.m. at Fulkerson - Stevenson Funeral Home in Watford City with the funeral service at 11 a.m. at Fulkerson -Stevenson Funeral Home. Burial was immediately following at Schafer Cemetery.
---