September 8, 2020
Muriel Johnsrud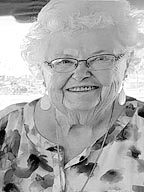 Muriel Nadine Johnsrud at 86 years old, was called home to her Lord and Savior, on Aug. 27, 2020, in Sun City West, Ariz. The Lord knew she was very tired after three decades of battling complex health issues. She has now earned her eternal rest.
Muriel was born Sept. 14, 1933, in Fargo, N.D., the daughter of Myrel and Elva Olson. Her family had roots in the 1890s at an early ranch in western Dakota Territory. Early in her life her parents moved to Fargo where she graduated high school and went to work for Bell Telephone Company.
Muriel married the love of her life Myron Johnsrud on Aug. 2, 1954, in Fargo. In 1959, son, Mark came into their lives. He was joined by sister, Michelle in 1962. Being a mother was the center of her life in all the years that followed.
In the mid-60s the family moved to Madison, Wisc., where they lived very busy lives, She had a daycare in their home to provide support for her family while her husband was earning his doctorate which was the foundation of his career.
She and her family lived in Fargo during the '70s and '80s. The 1990s found them in Washington, D.C., where Muriel joined the President's volunteer staff that handled courtesy mail and did so for three Presidents of the United States. She was requested by the one of the First Ladies to address the President's Christmas cards to the heads of state because she very much liked her handwriting.
Muriel was an avid reader especially of the American West and the Civil War. She continued to read until her last days. She and Myron travelled to many parts of the country to visit historic sites and marvel at the natural beauty of our country.
Muriel was also part of a group of ladies who traveled together. Their first trip they took was to England. Ever since that first trip they called themselves the England girls.
It was 1993 that Muriel had her first major health issues. Her strength of body and mind amazed many medical experts. She continued to live a full happy life for almost three decades. Her upbeat, strong can-do attitude was a pace setter for her entire family.
Muriel is survived by husband, Myron; son, Mark (Maribeth); daughter, Michelle; five granddaughters; seven great-grandchildren; sister, Shirley Gerlitz of Fargo; and brother, Lauren of Minneapolis, Minn.
She is preceded in death by her parents; and brothers, Gordon and Duane.
Memorial services will be held at a later date when COVID concerns have eased.
In lieu of flowers, please consider funding the continuing enhancement of the Zion Lutheran church landscaping: 24876 Franklin Lake Rd, Pelican Rapids, MN 56572. The Johnsrud home address is: 13810 Sandridge Drive, Sun City West, AZ 85375.
---