September 20, 2022
Patricia Swenson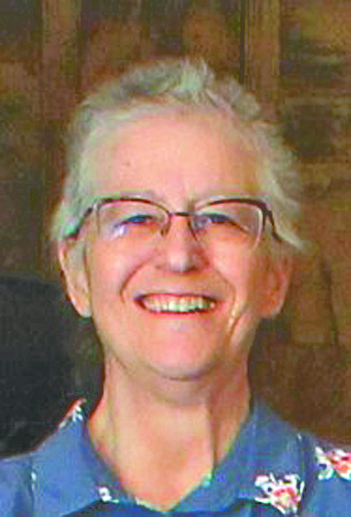 Patricia (Pat) Ann Swenson, 62, passed away peacefully at Bismarck Sanford Hospital on Sept. 11, 2022. Pat was born Dec. 16, 1959, at St. Joseph's Hospital in Dickinson, N.D., to Albert and Magdalena Heiser. She was the fifth of seven children. She was raised on the family ranch near Grassy Butte. Pat attended elementary school in Grassy Butte and graduated from Watford City High School. She attended Dickinson State University for a short time.
As a young girl Pat loved all aspects of ranch life from milking cows to fencing to working cows while riding her horse bareback. More times than not she could be found in the yard working with the family horses. She broke her first horse, Cheyenne, when she was only 15 years old.
Pat married her high school sweetheart, David Swenson on Sept. 8, 1979, at St. Peter Canisius Catholic Church in Grassy Butte. They made their home in rural Arnegard where they raised their three children, Erin, Sean and Nolan. On their homestead, they raised a variety of animals and livestock.
Pat began her work career as a Park Ranger at the North Unit of Theodore Roosevelt National Park at the age of 17. After she was married, she worked at Cenex in Watford City. Throughout her life, Pat worked at a variety of jobs including Window World, Midland Atlas, Impact, McKenzie Building Center, Cheetah Services, Panther Pressure Testers, Charlie's Services and DNB Services.
After her first grandchild was born, Pat and her daughter started a children's store, Beaver Creek Creations in Watford City. Pat loved sewing and made many custom items for their customers from blankets to one-of-a-kind pieces. She was well-known for her custom stick horses.
Pat loved spending time with her family, especially her six grandchildren. She enjoyed wading in the lake while the grandkids swam, reading books with them, and helping them care for their animals.
Pat was preceded in death by her parents, Albert and Magdalena; brother, Donald; sister, Elizabeth; and brother, Larry.
She is survived by her husband, David; daughter, Erin (Pete) Perry (Watford City); son, Sean (Michelle) Swenson (Keene); son, Nolan (Ella) Swenson (Wing); brothers, John Heiser (Grassy Butte), Cary (Jody) Heiser (Rapid City, S.D.), Lynn (Tanya) Heiser (Watford City); nieces, Marlie and Halie Heiser, Cindy and Dawn Marie Strong; nephews, Evan and Braden Heiser; grandchildren, Maggie, Owen, Ben, Teddy, Maxine and Clara Swenson.
She will be missed dearly by family and friends.
Services for Pat were held on Saturday, Sept. 17 at the Keene First Lutheran Church. Burial was held at the Good Hope Cemetery.
---