January 4, 2022
Ronald Pedersen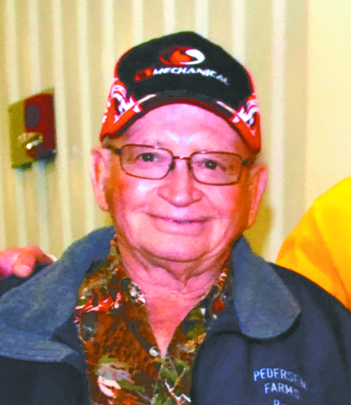 Ronald Calvin Pedersen, 85, of Arnegard, N.D., passed away on Dec. 25, 2021, at his home in the presence of family.
Ron was born on Sept. 2, 1936, to Anton and Alice (McCowan) Pedersen in Alexander, N.D. He was the second of five boys in his family. He was baptized and confirmed at Trinity Lutheran Church in Alexander. He enjoyed playing basketball and football and graduated in 1954 from Alexander High School. While growing up, their home was a gathering place for many cousins and other family members and friends.
He worked for numerous farmers before he entered the Army. When he returned from the Army, he worked for Roger Sanders and was a part of their family. During this time, he and his brothers traveled South for custom combining using John Deere 55 combines. He then made his way back to harvest crops for Roger. His love of all the harvest time activities continued throughout his life.
He married Adell Mjelstad on June 2, 1969, in Alexander at Trinity Lutheran. Ron "Ronnie" worked at the True gas plant for 20 plus years prior to retiring. He and Adell farmed and ranched their entire married life and continued to do so up until his death.
Ron was a member of Wilmington Lutheran Church, the Arnegard Lions Club and served on the McKenzie County School District Board.
He enjoyed hunting with his kids and grandkids, attending sporting events for them, reading Westerns, watching a variety of TV programs and visiting with friends and family.
Ron is survived by his wife, Adell of rural Arnegard; sons, Kevin (Susan) Mjelstad, Fargo, N.D., Kent (Anita) Pedersen, rural Arnegard; grandsons, Grant (Taylor), Clark and Brock Mjelstad of Fargo; granddaughter and grandson, Jordyn and Luke Pedersen, rural Arnegard; and great-granddaughter, Ellen Mjelstad, Fargo. He is also survived by his brothers, Robert (Jan) Pedersen, Billings, Mont., Royce Pedersen, Casper, Wyo., Bill Pedersen, Gillette, Wyo., and Marlan (Nancy) Pedersen, Gillette, Wyo., as well as many nieces, nephews and extended family members. Preceding him in death were his parents and sisters in-law, Rosemary Pedersen and Rhonda Pedersen.
A memorial service will be held on Friday, Feb. 18, 2022, at 2 p.m. at Living Faith Church, 805 14th Street SW, Watford City, N.D. Visitation will be held from 1-2 p.m. that day prior to the service.
Burial will take place in the Spring 2022 at the Riverview Cemetery in Williston, N.D.
In lieu of flowers, the family requests memorials in Ron's name to the Arnegard Lions Club and the Alexander Museum.
---