May 8, 2023
Rose Eschenko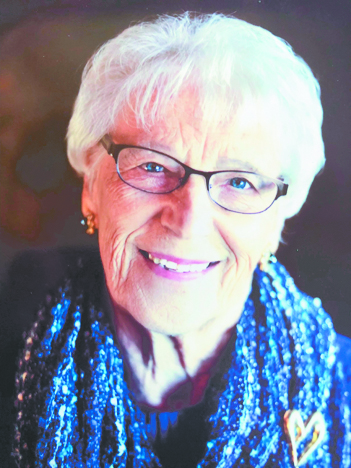 Rose Eschenko, 91, formerly of Grassy Butte, N.D., passed away peacefully with the Lord on April 26, 2023, with her daughter Susan, granddaughter Alyssa and family in their home at Joliet, Mont., after her almost three month stay enjoying love and memories made. When Grandma came to stay, she had late- stage dementia which brought some challenges, but also some really great memories. We later found that Grandma Rose had metastatic ovarian cancer which had taken over and quickly ended her beautiful life that she lived.
Rosella Alexenko was born June 7, 1931, at Grassy Butte, N.D., to Prince and Tena (Debrosky) Alexenko. She had four sisters: Ruth, Alma, Della and Elayne, and two Brothers, Ray and Lawrence. Her mother worked hard to provide for this family. Rose grew up on a farm/ranch so there were always things to nurture and things that needed attention. In the 1930's, there was not much for gardens but where she moved to, at Killdeer, N.D., there were springs which could water gardens, animals, and whatever other needs there were. She attended school (1st - sophomore year) at Killdeer, N.D. Rose's family planted all kinds of vegetables, enough to sell and give away. Big heads of cabbage and carrots and ALL vegetables! Rose's family farm was one and a half miles from the neighbors, Pete Eschenko and family and that is where she became friends with Ted, and even when they moved to Killdeer, Ted continued to come see Rose. When Rose was a vibrant 17-year-old young woman, Ted Eschenko, proposed. It must had been a love that was true as Ted rode horseback five miles west of Killdeer to see her often. Ted and Rose were married on Nov. 8, 1948, a double- wedding ceremony with her sister Ruth and Ted's brother Fred, in Manning, N.D. Both Ted and Rose enjoyed farm life and they continued farming and ranching which was a good life. They built their first two-room home on the family homestead, and soon two children, Hal and Susan, were born. In 1977, a new family home was built and they continued farming and ranching, and raising a family, where once again in Rose's words "was always something to nurture, something that needed attention."
Rose was involved with her community and several organizations. She was a member of Redeemer Lutheran Church (65 years) where she was treasurer and helped with Sunday school, along with any sewing needs of the church with the ladies. Rose was always passionate for visiting and getting to know people which always showed in the things and places she was involved. She was involved in Lutheran Women's Missionary League, Grassy Butte Community Club, Fifty Years in the Saddle, McKenzie County Museum and Historical Society, McKenzie County Fair and Ranch Creek Homemakers. She also was a part of the Foreign Exchange Student Program and Foster care. Rose's words "I enjoyed visiting with people, the Museum was especially enjoyable, and visitors enjoyed the 100-year-old building and history that is visible for the era." After her husband, Ted, passed away in 2003, she stayed on the family farm that she truly loved until she wasn't able to anymore. She then moved to be closer to her daughter Susan and her husband Jay in 2013, where she grew to be happy in this new season of life. She continued her love for gardening, checking the cows, and spending time with her grandchildren and great grandchildren. She always stayed strong in her faith and continued that relationship with the Lord. The Lord gave Rose so much strength as she seldom complained and would often ask "why are you crying?, are you ok?" Followed by holding your hand and making you feel completely loved and nurtured.
Rose enjoyed baking, there were times when her children would come home from school and there was a counter full of long johns with maple frosting which was something Susan remembers of her mom often. It could be fresh buns or a chocolate cake, but there was always something yummy and fresh to enjoy. In one of Rose's cookbooks she has red hearts around a chocolate cake recipe for Dad, (Ted) to make easily if unexpected company were to stop by when she wasn't home. That was Rose, always caring and thinking about everyone else, making sure they had anything they may need or make sure they are okay. She often had a hoe in her hand and a beautiful garden to enjoy. The pantry shelves were always full of canned goods from her harvest that many of us sure enjoyed. Sewing was also another passion of hers, potholders, wall hangings, a heart patch on Dad's jeans, or quilts for all the grandkids that always smelled of the wood burning stove where she sewed in the basement. Ted always made sure she had a warm place to sew. She made sure the great grandkids had ice cream money to "go get a nice treat" as Rose would say. Selfless, caring, and nurturing to all, our sweet Rose was. Rose wanted her family and loved ones to know that she loved them, to be forgiven for times she may have wronged them, and to know that she does not fear death, but sees it as a new beginning. She wants her family to be at peace and make peace if they can. "I hope my family and friends will look at my dying as a time of personal growth for everyone, this will help my life be more meaningful." Rose always had a way of writing and thoroughly journaled even the simple things of each day, from if the sun was shining to how many hundredths of rain they got that night. She truly enjoyed and had so much gratitude for the life she had and always enjoyed sharing that with her family.
During the last season of Grandma Rose's life in Joliet, she taught her Granddaughter and family how to slow down and enjoy the moment. She taught them that sometimes what seemed to be a big problem really was small and to just love the people around you. She taught them that sometimes sacrificing for your family is such a blessing and worth more than words can express. During her short time there, she had some fun sayings that were treasured. One of them being "Dobre," which she would say anytime there was laughter happening or when something was made good. Grandma Rose often made this ticking noise when she was expressing love, it became a sound they cherished along with the nurses and care team that came to visit her weekly. Even when she didn't want something, she would say to Alyssa, "thank you sweetie, now go away" and one time she even said "you are a pain in the B.U.M. (spelled out, but wouldn't say the word). They enjoyed making cheese pockets one last time with her daughter Susan, taking her to church when the weather got nicer, many cups of tea and Alyssa had the BEST graham crackers. When she was offered one, often her response was "mmmm, aren't these just so delicious." Leah and Jasper were very attentive to her and she enjoyed the laughter and would roll her eyes at Jasper's goofiness and hold Leah's hand. Grandma Rose would scrub the dishes and ring out the rags, often chased the chickens and always had some work to do in her mind. Always planting and tending to her garden which is something that is deep inside her heart. Her last days were filled with love and comforts until her last breathe. Grandma Rose has left a beautiful imprint on the lives of so many and will be forever missed.
Rosella is preceded in death by her husband, Ted; her parents, Prince and Tena Alexenko; sisters, Ruth, Alma, Della and Elayne; and brother, Lawerence. She is also preceded in death by her half-brothers and sisters, Steven, Demetry "Matt," Katie, Elsie, Stacia, Ann, and Agnes. Rosella is survived by her brother, Raymond (Deanna) Alexenko; her two children, Hal (Lindy) Eschenko and Susan (Jay) Soreide. Rose is also survived by four grandchildren, Tina (Kyle) Everette, along with two great-grandchildren Jesse and Taryn; Evan (Grace) Eschenko, Kollee (Andrea) Burkhardsmeier, along with four great-grandchildren Nathan, Anna, Elisha, and Nolan; and Alyssa Lorentz (fiancé Brent), along with three great-grandchildren Zoe, Leah, and Jasper. Also a special recognition to her friend from Greece, Eleni Mavrantoni, who called her "Momma Rose."
We would like to also acknowledge and extend a special thank you to Beartooth Homecare and Hospice. They treated Grandma Rose with compassion and care from day one and we never felt alone in this season of Rose's Life. We couldn't have done it without their love and care.
Rose's Celebration of Life service will be held at Refuge Church, 113 S. Main Street, Joliet Mont., on May 9, at 10 a.m. with coffee and bars to follow, along with a gathering in the park for meal and sharing memories of our beloved Rose. Memorials can be sent to Alyssa's Address: 107 S. First ,St, Joliet, MT, 59041.
---