May 8, 2023
Kathleen Spicer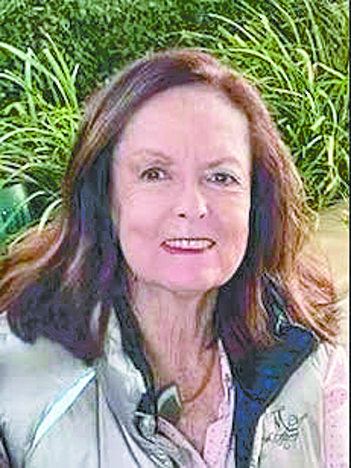 Kathleen Keogh Spicer, 77, of Scottsdale, Ariz., and Napa, Calif., passed away March 22, 2023, at her home in Scottsdale.
Kathleen was born in Fargo, N.D., on May 4, 1945, the eldest of Brooks and Kay (Hyland) Keogh's three children. Along with twin siblings Mary and Frank. Kathleen, known to close friends and family as "Kak" grew up on the historic Keogh family cattle ranch near Keene, N.D. Her upbringing on the ranch led to a lifelong love of horses, rodeo, and the proud history of western North Dakota's cattle industry. She was active in horsemanship and rodeo competitions from a young age and found success in high school barrel racing and rodeo queen competitions across the state.
After graduating from Shanley High School in Fargo, N.D., Kathleen attended North Dakota State University for a year, followed by a year at the College of St. Catherine in St. Paul, Minn. She transferred to the University of Arizona in Tucson, where she competed successfully on the university's rodeo team, while earning a degree in consumer science and economics, graduating in 1967.
During her time as a rodeo competitor, Kathleen met the love of her life, Ron Spicer. Ron was a calf-roper and rancher from Rochester, Minn. After marrying in 1968, the two continued to ranch, rodeo and train horses together in Minnesota.
In 1976, Kathleen and Ron purchased farmland in what would later become known as the Stags Leap district of Napa, Calif., which they turned into a thriving vineyard. Armed with their strong work ethic and knowledge of farming, they planted the vines themselves and grew the vineyard into a premier producer of Cabernet Sauvignon grapes. For the past 40 years, Spicer grapes have been featured in many of the region's top bottles of Cabernet at prominent Napa Valley wineries, including Beaulieu Vineyard's Georges dé Latour Tapestry.
Kathleen and Ron were immensely proud of their vineyard, often joking that their success was "pretty darned good for a cowboy and cowgirl from the Midwest." Many wineries gave their grapes the unique honor of listing Spicer Vineyards on their labels.
Kathleen and Ron continued to compete in rodeos throughout the 1980s and 1990s. Kathleen and her beloved mare, Twerp, were reserve California state barrel racing champions in their division on the Pacific Coast Circuit in 1992. During many hours on the road driving between rodeos throughout the region, Kathleen and Ron instituted a good-natured policy known as "The 100-mile rule," which dictated that neither of them were allowed to comment on a frustrating or disappointing result within the first 100 miles of the trip.
Kathleen also held professional roles at several Napa Valley wineries over the years, working in public relations, community outreach, and hospitality. Her knowledge of wine, coupled with her trademark wit and conversational ability, made her an asset in tasting rooms throughout the region.
Although her achievements in the wine industry are noteworthy, Kathleen's life was grounded in her love for animals-in particular, dogs and horses. Together with Ron, the two established renowned breeding programs of Australian Shepherds and American Quarter Horses, the latter of which was still a passion for Kathleen at the time of her death.
Kathleen's nieces and nephew fondly recall many hours spent alongside her on horseback, during which she taught them horsemanship skills and fostered a love for animals and pride in their western North Dakota and Irish heritage. Friends and other relatives remember Kathleen as the enthusiastic life of wine tastings, parties, ski trips, and concerts that featured her favorite artists, Alan Jackson, George Strait, and the Rolling Stones.
In the years following Ron's death in 2009, Kathleen relocated to Scottsdale, Ariz., and focused her attention on breeding and training top-quality barrel racing prospects and on traveling with friends and family. She sold Spicer Vineyards in 2022.
Kathleen was well-read, well-educated, and well-spoken, and delighted in conversing with people from all walks of life. The old cowboy phrase "she could talk to a fence post" applied impeccably to Kathleen. Friends and family will profoundly miss her generosity, sharp wit and tenacity.
Kathleen is preceded in death by her parents, Brooks and Kay Keogh; her husband, Ron Spicer; sister-in-law, Katie Keogh; and sister, Mary Groves. She is survived by her brother and sister-in-law, Frank and Deberah Keogh; sister-in-law, LaDonna Spicer; brother-in-law, Barry Groves; nieces and nephew Erin Keogh (Kyle Godwin), Colleen Bratton (Troy), and Patrick Keogh; and six great-nieces and nephews, Norah and Audrey Godwin, and Tristan, Adele, Katie, and Thomas Bratton.
Kathleen's family encourages memorial donations to local animal rescue organizations or to the Justin Cowboy Crisis Fund, 101 Pro Rodeo Drive, Colorado Springs, CO, 80919. Details of a memorial service for Kathleen will be announced at a later date.
---