June 2, 2020
Shirley Bohmbach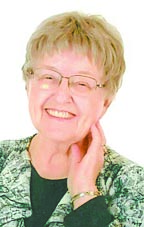 Shirley Bohmbach, 91, formerly of New Town, died Wednesday, May 20, 2020, surrounded by her family, at her home in Minot.
Shirley Roberta Biggers was born Oct. 28, 1928, to LeRoy and Ruth Ida (Dailey) Biggers, in rural Buffalo, N.D. She attended rural schools and then Tower City High School where she graduated in 1946.
On Aug. 9, 1953, Shirley was united in marriage to Marvin Bohmbach in Tower City at First Presbyterian Church. They made their home at the Bohmbach family homestead near Charlson and were blessed with five children. Faith was an important part of Shirley's daily life. She attended Keene First Lutheran Church where she taught Sunday School classes and was president and secretary of the Rachel Circle. She also attended church at Bethel Lutheran, the Baptist Church and United Church of Christ, all in New Town. With her love of music, she often sang for, and played piano or organ for many special events and church services.
Shirley began her 33-year career in teaching after completing a two-year standard degree at Valley City Teachers College in 1952. For six years, she taught in rural, one-room schools and then in Mandan and Amenia, N.D. In 1972, she completed her BS in Elementary Education from Dickinson State College with a minor in Psychology and Art. She retired after 25 years at Edwin Loe Elementary in New Town.
Never one to remain idle, Shirley worked in the activity departments at the nursing homes in New Town and Parshall for 11 years. She was awarded Employee of the Year at the New Town home where she also acted as secretary/treasurer for the board. She was active in the Lakeside Senior Citizens and served as president for 10 years. During that time, she was instrumental in the building of the senior citizens center.
Shirley enjoyed traveling. She and Marvin took many trips and tours. From Europe to Alaska, she liked to experience different cultures. In 2016, Shirley moved to assisted living at The Wellington in Minot. She treasured time spent with her family, especially time with all her grandchildren. Shirley lived her life, led by God, in a sensible, modest, and humble way. Her kind smile and generous heart will be greatly missed.
Shirley is survived by her children, Sally Bohmbach, Patricia Maas (Kelly), Kari Norby (Mark), and Curtis Bohmbach (Susan); grandchildren, Deana Sorgenfrei, Miranda Merrill, Faye Norby, Matthew Norby, Adrienne Norby, Ryan Bohmbach, Eric Maas, and Brian Maas; 12 great-grandchildren; three great-great-grandchildren; Godchildren, Shelley Dennis, Steffen "Bud" Bohmbach, and Tammy Wegner; sister-in-law, Frances Ventsch; cousins, and many nieces and nephews.
She was preceded in death by her parents; husband, Marvin; infant daughter, Susan Rae; five brothers and three sisters.
Her funeral was held Saturday, May 23, 2020 at First Lutheran Church in Keene. She was interred at Good Hope Cemetery, Keene.
In lieu of flowers, Shirley preferred memorials to Veterans of Foreign Wars, Cancer, or Diabetes organizations.
---