February 23, 2021
Velma Daugherty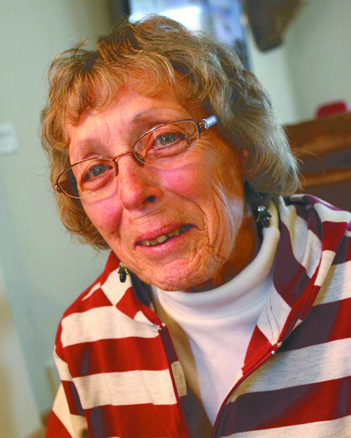 Velma passed away on Monday, Feb. 15, 2021, at McKenzie County Healthcare, Watford City, N.D.
Velma Mae Wilkinson was born on May 24, 1938. She was the first child born to Stella May (Shastid) and William "Louis" Wilkinson on the farm in Altamont, Kan. Her Grandma Joyce was there, it was raining and her dad had to hook up the team of horses to go out and pull Dr. Jones out of the ditch to get to the house. They moved to Parson, Kan., when her dad went to work at the ice plant delivering ice in town. She started kindergarten in Parsons, Kan.
After her dad got out of the Army, he worked in the oilfield building oil tanks. They transferred to Great Bend, Kan., when she was in second grade. The year she was a freshman, they were transferred to Merino, Colo., where she graduated from Merino High School.
Velma married Dan Daugherty Aug. 13, 1957. They lived on the Daugherty farm in Merino and had their first child, Sharon Kay on March 26, 1958. They moved to Dan's first job at a gas plant in Leader, Colo., a month before Carol May was born on Sept. 14, 1959. They lived there a year and a half before moving to Lone Tree Gas Plant, between Upton and Newcastle, Wyo. Kevin Dan was born on May 13, 1965. Velma absolutely loved taking the kids to walk the roads and hills in that area. Oh, the stories she would tell about those hikes!
In 1968, they moved to Moorcroft, Wyo., to a homestead on the Belle Fourche River. Mom made wherever she lived home; many hours were spent quilting, sewing, gardening, and canning. The family was always on the river whether it was swimming or ice skating. Many evenings were spent barbecuing and roasting marshmallows on an open fire pit.
In 1973, the gas plant moved to Arnegard, N.D., along with all the employees. Her green thumb turned the gumbo ground into a beautiful yard, garden, and flower beds. Velma loved being outside; whether it was working in her garden, working with her flowers, or simply sitting in the sun, she was happy. She made fresh homemade cookies every day after school or her famous mayonnaise cake!
Velma loved sewing and she also made sure her kids and grandkids knew how to as well. She sewed baby clothes and blankets, school clothes, prom and wedding dresses, and quilts. Not a kid in the country went without a Velma Daugherty crocheted or knitted blanket.
She and Dan went on many long trips. She loved going to Yellowstone National Park and the Black Hills. Velma always had projects of her handwork going as they traveled to Colorado and Missouri when visiting family.
Around 2011, Velma's health started declining including her fight with Parkinson's Disease. But as we all know, Velma was a tough fighter and survived many health challenges.
December of 2019, Velma went to live at the Good Shepherd Home in Watford City. Her family is grateful for the nurses and CNAs who loved her as their own Grandma. It broke her family's hearts to not be able to visit as often as they wanted to, due to COVID-19. We were blessed to spend six days at the hospital, where she assured her family she had Jesus in her heart. Velma passed surrounded by her loving family and special friends, at McKenzie County Hospital.
Velma is leaving behind her husband, Dan Daugherty of Arnegard, N.D.; children, Sharon Ceynar and husband Bill of Arnegard, N.D., Carol Sanford and husband Kenny of Watford City, N.D.; grandchildren, Jami Novodvorsky and husband Shane of Douglas, N.D., Laci Cargo and husband Seth of Arnegard, N.D., Cody Ceynar and wife Janelle of Watford City, N.D., Amy Polivka and husband Nick of Watford City, N.D., Melony Douglas and husband James of Sheridan, Wyo., and Rory Sanford and fiancé Lisa of Watford City, N.D.; great-grandchildren, Tate and Miranda Novodvorsky, Dylon Cargo, Trey, Camden, Blake, and Weston Polivka, Zooey Douglas, Tucker and Kooper Sanford, who loved her beyond measure. Sisters, Wilma Hamilton of Harrison, Ariz., Dianna Evans and husband Jerry of Fairview, Mont., Lorraine Johnson and husband Ernie of Ringold, Ga.
Velma was preceded in death by her parents; her son, Kevin; her brothers, Louis, James, Martin, Jay; and her sister, Joy.
Funeral services for Velma Mae Daugherty, 82, of Arnegard, N.D., were held at 1 p.m. (CST), Monday, Feb. 22, 2021, at the Wilmington Lutheran Church in Arnegard with Pastor Garrett Gudmunsen officiating. Interment was in the Schafer Cemetery, Watford City, N.D., under the care of the Fulkerson-Stevenson Funeral Home of Watford City. Visitation was held on Sunday, Feb. 21, 2021, from 12 to 5 p.m. (CST) at the funeral home and one hour before services at the church. Remembrances, condolences and pictures may be shared with the family at www.fulkersons.com.
---