January 24, 2023
Vivian Linseth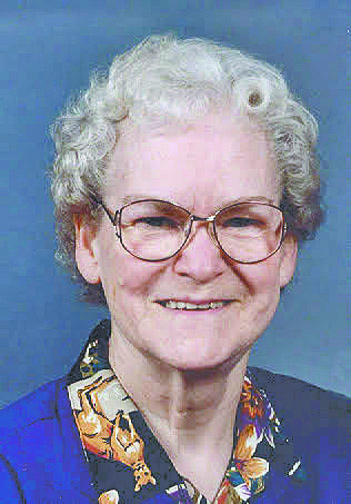 On Jan. 14, 2023, Vivian Linseth passed away of natural causes at the Good Shepherd Nursing Home in Watford City. Vivian was 93 years old.
Vivian was born July 7, 1929, to James and Jenny Renbarger on the family farm near the Missouri River in northern McKenzie County. Vivian grew up on the farm with her parents and two older brothers, Vernon and Arnold. In the late 1940s the family relocated the farm a few miles south in advance of the flooding of the Missouri River Valley from the Garrison Dam project. Vivian graduated high school from Watford City in 1947.
In the late 1940's Vivian would fall in love for the first and only time in her life. Paul Linseth was a friend of Vivian's brothers, but their attraction to each other was mutual and unmistakable. The two were married in Williston, N.D., on June 17, 1950. They were best friends and were nearly inseparable for the next 70 years.
After their marriage, Vivian and Paul moved to North Carolina and Texas, where Paul was stationed in the U.S. Army. While in Texas, they started their family with the birth of their daughter Shalisha. Upon his discharge the couple returned home to North Dakota, where they eventually purchased and moved to the Linseth farm in eastern McKenzie County. The family continued to grow with the addition of four sons: Savern, Shane, Sheldon and Steven. Life on the farm was not always easy, but Vivian was never afraid to get her hands dirty doing farm work. With the big bustling family Vivian always succeeded in making their house a happy home. You could often count on coming home to the smell of freshly baked buns, or caramel rolls, and maybe even some milk mush, so long as someone had milked the cow. Vivian loved life on the farm, and they were always busy with friends, neighbors and relatives coming to visit.
Vivian and Paul moved from the farm to Watford City in 1992 where their home became even more of a focal point for family gatherings and neighbors stopping by for coffee. By this time in Vivian's life grandchildren were becoming frequent visitors to their home. Whether it was to stop by and say hello, to borrow a bed to stay the night in town, or to try and catch something fresh out of the oven, the visits were frequent and welcomed. No matter the circumstances you knew Vivian would greet you with a smile. Vivian loved to see family and friends and if you stayed long enough you could count on having your picture taken, which would eventually make its way onto her hutch or refrigerator. If you ever wanted to know if Vivian valued family, you had to look no further than her pictures. You could find everyone there from the kids to great-grandkids, second cousins, and family friends and she loved all of them.
Vivian also found other ways to stay active in her retirement years. She was a member of the Old Settlers' Club, 50 Years in the Saddle, a Treasurer for the American Legion Auxiliary, and volunteered to deliver for Meals on Wheels. Vivian and Paul were regulars at the local grills and cafés where they could often be found having coffee and swapping news and stories with friends. In the spring of 2015, Vivian decided to be baptized, because she was not as a child. So, at the gentle age of 85, in front of family and friends Vivian was baptized at the First Lutheran Church along with her great-grandson, Grant Linseth.
In 2016 Paul and Vivian moved into the Good Shepherd Home together where they continued to enjoy visits from family and friends. On June 17, 2020, Paul and Vivian celebrated 70 years of faithful and happy marriage by renewing their wedding vows surrounded by family and friends. Days` later Paul would pass on into eternity with Vivian by his side. Since then, Vivian has been patiently waiting for the good Lord to call her home to once again be by her loving husbands' side.
Vivian was preceded in death by her husband, Paul Linseth; parents, James and Jenny Renbarger; brothers, Vernon and Arnold Renbarger; daughter-in-law, Sheila Linseth.
Vivian is survived by her children, Shalisha Quinnell, Savern Linseth, Shane Linseth, Sheldon Linseth and Steven Linseth; 12 grandchildren; and 16 great-grandchildren.
The family would like to thank the staff at the Good Shepherd Home, and Fulkerson Stevenson Funeral Home.
---