August 11, 2020
Wallace Johnson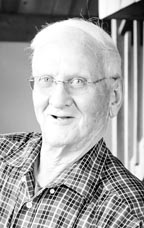 Wallace "Wally" Johnson was born July 9, 1930, in Williston, N.D., to Oscar and Edith (Olson) Johnson. He was raised on the family farm in Alamo, N.D., and then graduated from Alamo High School. He served in the United States Air Force from 1951 during the Korean War, until he was honorably discharged in 1955. He then attended and graduated with a Bachelor of Science in Education degree from the Minot State Teacher's College in 1959. Wally then moved to Watford City, N.D., and started his career as a high school math teacher, before later going on to earn a Master's Degree. He retired from Watford City High School in 1991.
Wally met Ellen Alderin in Sidney, Mont., and they were married there on May 29, 1961. To this union, they had four children. After Ellen's passing, he later married Donna Whomble. Over the years, Wally loved flying his private airplane, going on family camping trips and spending time with his friends and family. He actively participated on the Watford City Airport Authority, Housing Authority, City Council, Gaming Commission, Lions' Council, was a member of the First Lutheran Church, Watford City EMT, Manager of the Watford City swimming pool and American Legion Drill Team.
He was a great role model for his children, grandchildren and students that attended Watford City High School. He was kind, patient, smart, hard-working, strong, honest and gentle throughout his life.
Wally was preceded in death by his parents; brother, Melford Johnson; wife, Ellen Johnson; second wife, Donna Johnson; and daughter, Dawn (Johnson) Schmidt.
He is survived by sister, Eilene Biwer; son, Troy (Charity) Johnson and their children Kacee (Adam) McPherson, Brittany Johnson, Troy Austin Johnson, Tate Johnson and Samantha Cardwell; daughter, Tori Johnson and her children Saroi (Mike) Brown, Nicole (William) Bryant and Brandy (James) Steinbrook; son, Doran Johnson; son-in-law, David Schmidt and his children Megan and John Schmidt; step-children, Tina (Dan) McCauley and Jimmy (Angi) Garmann; 17 great-grandchildren; and numerous nieces and nephews.
A memorial service was held Thursday, Aug. 6, 2020, First Lutheran Church in Watford City, N.D., with Pastor Nichole Martin officiating. Fulkerson-Stevenson is assisting the family with arrangements and you may leave a condolence on the website at www.fulkersons.com.
---