July 28, 2020
Willard Holo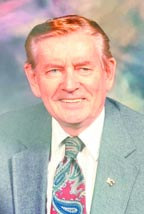 Willard "Bill" Holo was the sixth of seven children born to Helen (Bjornstad) Holo and James Holo. He was born and raised in Arnegard, N.D.
Bill Holo was a man of many accomplishments throughout his life. He was a pianist/organist, opera coach, chorus master, teacher, actor and stage director. He began his professional music career at the age of 14 as a pianist and organist at two affiliated churches in North Dakota. He graduated from college with a double major in Music and English, and then completed a Master's Degree at the University of Minnesota, followed by further graduate studies at Westminester Choir College, Long Beach State, the University of Nevada and at several colleges in New York City on a fellowship from the National Endowment for the Humanities.
Bill's teaching career began in 1951 where he was an instructor of Music at West Junior High School in Great Falls, Mont. In 1952, he was inducted into the Army and spent a year in Germany. Upon discharge from the Army in 1954, he took a job as Instructor of English, Music and Drama at Mohall High School in Mohall, N.D. In 1956, Bill moved to San Bernardino, Calif., where he taught English at San Bernardino High School. After two years, he decided California wasn't for him and he accepted a teaching position at Dawson County Community College in Glendive, Mont., where he would remain for six years as Chairman of the English and Drama Departments. He also taught music and journalism and was Director of Theater, producing several musical productions, "Song of Norway," Handel's Messiah and plays such as: Arsenic and Old Lace and Tea House of the August Moon.
In 1965, he was offered the position of Chairman of English-Humanities Department at Lake Region Community College in Devils Lake, N.D. He was also Director of Theater and was responsible for bringing many wonderful stage productions to life for the community of Devils Lake. Bill established several wonderful friendships during his 11 years at LRCC and remained in touch with several of them throughout his life. Bill always remembered those years with love and appreciation. During the summers, while at LRCC, Bill directed the Ft. Totten Little Theatre, a local summer stock company in North Dakota. He produced and directed shows as: Showboat, Mame, The King and I and The Student Prince.
After leaving Devils Lake, he embarked on the beginning of a very exciting career working as a rehearsal pianist in various Opera Festivals, he became acquainted with international opera and concert artists, who persuaded him to leave the teaching profession and work as a professional accompanist and vocal coach. He traveled extensively in concert and theater productions with such noted concert and opera artists as Gimi Beni and Nancy Williams, internationally recognized singers known for their critically acclaimed performances on the world's major opera stages as well as on recordings with Leonard Bernstein. Mr. Holo appeared with them in the touring production of Mr. Beni's original musical, "Happy Birthday, Rossini," performing in a role especially written for Bill's diverse talents as both actor and pianist. Gimi Beni would later become his lifelong partner, a relationship which lasted for 26 years.
In 1993, Bill was recommended for a position as principal pianist and organist at St. James United Methodist Church in St. Petersburg. He remained there for 11 years, leaving in February of 2004. After retiring from this position, he remained very active in organizing community choruses for performances of sacred cantatas and oratorios. He continued to give private piano and vocal lessons until his health would not longer allow him to continue.
Bill moved into assisted living in 2016 and later moved to the nursing home for more specialized care. Throughout his stay at this facility, Bill was very blessed to have regular visits and care by four very special friends (Joan, Ron, Brian and Stan). Bill's extended family will be forever grateful to these very loyal and caring friends. Bill was the last of his immediate family.
Bill is survived by nieces and nephews, oldest brother James "Buck" Holo's children, Wayne, Marilyn and John; Winnefred's children, Sandra, Gail, and Mary (Ellen deceased); Ruth's children, Kristy and Mike, (Kirby and Wade, deceased); Oliver "Rip" Holo's children, David, Terry, Mary and Robert; Austin Holo's children, Karen and Sally (James and Denise, deceased); numerous great-nieces and nephews; Special friends, Joan, Ron, Brian and Stan.
Predeceasing Bill were his father; mother; sisters, Ruth and Winnifred; brothers, James "Buck," Oliver "Rip," Austin and Dale; nephews, Kirby and Wade Arnegard and James Holo; nieces, Denise Holo and Ellen Turnquist; and Gimi Beni, his life partner.
Cremation has taken place. Memorial Park Funeral Home in St. Petersburg, Fla., is in charge of arrangements. No formal service is planned. Bill will be laid to rest in New York at Rutger's Presbyterian Church Cemetery next to his life long partner, Gimi Beni. You may visit the funeral home website at memorialparkstpetersburg.com.
---