January 12, 2016
Watford wrestlers take third at Hettinger Classic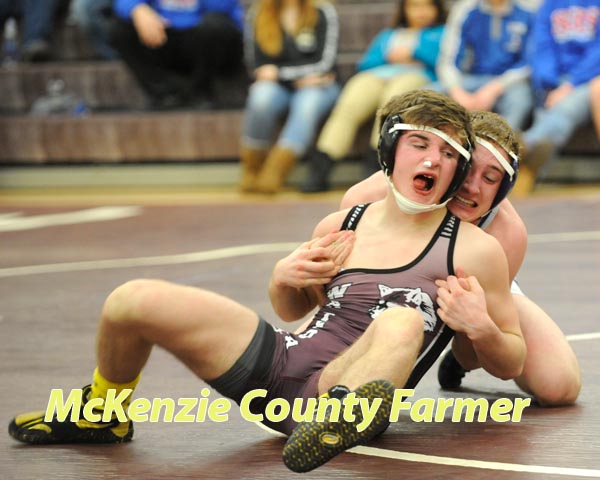 By Neal A. Shipman
Farmer Editor

The Watford City varsity wrestling team split in a pair of dual meets last Thursday as the Wolves fell to Minot Bishop Ryan, 43-21, before defeating the Stanley Blue Jays, 46-20. The Wolves then capped off the week with a third place finish at the Hettinger Tournament.
This week, the Wolves will be competing in a triangular in Beulah on Friday and will then participate in the Beulah Tournament on Saturday.
Watford City Triangular
Bishop Ryan, the No. 5-ranked dual team in Class B wrestling, won nine of 14 matches to defeat Watford City, 43-21, to open last Thursday's triangular action.
The dual featured a lot of roster jockeying to create matchups for both squads.
In the first match, Jade Hepper, who is ranked No. 4 in the state, was decisioned by Ryan's Aaron Sandy, the No. 2 wrestler in the state, 2-1.
Bishop Ryan made some moves of their own in the upper weights where they moved up their No. 1-ranked 195-pounder, Jordan Will, to take on Jake Belland, the No. 2-ranked 220-pounder. The match was close before Will countered a Belland cradle attempt and scored five points to blow the match open to go on to a 12-3 win.
Moving Will up to 220 pounds allowed the Lions to move their original 220-pounder up to wrestle Jackson Faller at heavyweight. Faller built an early lead, but gave up a couple of late takedowns to fall 11-7.
The Wolves picked up a pair of wins from Jake Leppell and Braedon Gumke, who each moved up a weight class as well. Gumke's win was a 7-5 decision over Kaleb Beeter, the No. 2-ranked 120-pounder in Region 3.
In spite of the team's loss, Mitch Greenwood was pleased with his team's performance.
"You cannot say that the effort wasn't there," stated Greenwood. "Every kid worked as hard as they could, but we went up against a very good team and lost to some very good wrestlers. We lost some close matches that could have went the other way. That's the frustrating part. We lost three matches that very easily could have gone the other way and a 22-point spread becomes a five-point spread real quick."
In the match against Stanley, the Blue Jays put the Wolves in a 14-0 hole after winning the first three matches. But Watford City would bounce back to win the dual.
Connor Dennis put the Wolves on the board with a pin at 182 pounds, but the Blue Jays got six points right back with a forfeit at 195 pounds. However, those forfeit points would be the last points the Blue Jays would score as Watford City rattled off eight consecutive wins.
The streak was highlighted by a 5-4 win at heavyweight where Jackson Faller knocked off Stanley's Garrett Hoelscher, the No. 5-ranked wrestler in the state.
Breadon Gumke picked up an upset win of his own with a 3-1 decision over Kaiden Meiers, who also was a No. 5-ranked wrestler.
"Those were some quality wins for those two," stated Greenwood. "Each of those kids have beaten us earlier in the season so this shows that we're making improvements and getting better."
Antonio Garcia and Jade Hepper added pins to help ensure the Watford City win.
Bishop Ryan 43, Watford City 21
138: Dakota Garmann won by forfeit.
145: Jade Hepper decisioned by Aaron Sandy, 2-1.
152: Kyle Cook pinned by Konner Beeter, 3:49.
160: Watford City forfeit.
170: Carlton Turnquist pinned by Cole Dauphinais, 3:03.
182: Connor Dennis decisioned Josh Johnannson, 8-2.
195: Watford City forfeit.
220: Jake Belland decisioned by Jordan, 12-3.
285: Jackson Faller decisioned by Nathan Lee, 11-7.
106: Liam Shannon decisioned by Conner Ledoux, 4-2.
113: Jake Leppell pinned Chase Burke, 4:40.
120: Braedon Gumke decisioned Kaleb Beeter, 7-5.
126: CJ Thacker pinned by Mason Merck, 1:39.
132: Antonio Garcia decisioned Ethan Winick, 12-10.

Watford City 46, Stanley 20
152: Hunter Schwartzenberger pinned by Bradley Ladwig, 1:16.
160: Kyle Cook decisioned by Dalton Brown, 16-5.
170: Carlton Turnquist decisioned by Cody Ruden, 11-3.
182: Connor Dennis decisioned Colton Rudolph, 2-0.
195: Watford City forfeit.
220: Jake Belland won by forfeit.
285: Jackson Faller decisioned Garrett Hoelscher, 5-4.
106: Liam Shannon decisioned Cody Rudolph, 6-1.
113: Braedon Gumke decisioned Keyton Meiers, 3-1.
120: Jake Leppell won by forfeit.
126: CJ Thacker decisioned Trevor Harstad, 15-6.
132: Antonio Garcia pinned Trent Anderson, 1:45.
138: Dakota Garmann won by forfeit.
145: Jade Hepper pinned Dyllon Craft, 0:55.

Hettinger Tournament
Just a mere 10 hours after finishing their dual with Stanley, the Wolves hit the road to travel to Hettinger for the two-day, 16 team "Hettinger Classic" Tournament, which featured teams from North Dakota, South Dakota, Montana, and Wyoming.
Watford City finished the tournament in third place trailing Hettinger and Moorcroft, Wyo.
The Wolves entered two competitors, Liam Shannon and Jake Leppell, in the varsity division of the 106-pound weight division. Shannon kicked off the tournament with a 10-3 win over Bowman's DJ Martian and went 3-1 in his pool to finish second and advance to the semifinals. His only loss was a 10-6 set-back to New Salem's Tayt Wolding, the No. 2 wrestler in the state. Shannon went on to pin the champion of the other pool and advance to the finals where he lost again to Wolding, 9-2.
Jake Leppell went 3-2 in his pool before losing an overtime match in the consolation semifinals. He then scored a late takedown to secure a come-from-behind win in the seventh place match.
At 113 pounds, Braedon Gumke found himself pooled up with a pair of defending state champions in Hettinger's Kyle Burwick and Moorcroft's Dylan Humes. Both state champions defeated Gumke, but they were the only ones to do so as Gumke would win the rest of his pool matches. Gumke then pinned his opponent in the consolation semifinals, and then decisioned Linton's Ty Thompson to take fifth place.
CJ Thacker tore through the first day at 120 pounds with four straight pins before being decisioned, 11-7, by New Salem's Josh Irwin, who is ranked fifth in the state.
Thacker posted a first period pin of his semifinal opponent before being decisioned, 11-4, by Irwin in the championship.
Antonio Garcia, wrestling at 132 pounds, picked up a pin over Kenmare's Laythun Stroklund, before losing his next four matches.
Jade Hepper had his hands full at 138 pounds as his first pool matchup was against defending State Champion Kyle Moch of Linton. Hepper would lose that match, 10-2, but went on to win his next four matches in pool play. In the semifinals, Hepper decisioned Moorcroft's Casey DeLong, the No. 5-ranked wrestler in Wyoming, 7-5. In the title match, Hepper was decisioned by Kyle Moch, 18-2.
After losing his first match at 145 pounds, Hunter Schwartzenberger pulled off a pin over Lemmon's Bleau Hoge. Schwartzenberger would pick up one more pin in his pool to finishe third and move on to the consolation semifinals where he would drop his next two matches to finish in eighth place.
Kyle Cook got off to a rough start in the 152-pound weight class as he lost to Hettinger's Logan Lachowitzer before coming back to win decsions over Bowman's Lane Jeffers and Moorcroft's Brett Wassburg. In the semifinals, he earned a first round pin over Houston Brown of Broadus, Mont., and then pinned Lachowitzer in 3:40 to win the championship title.
Cook was not the only champion that the Wolves would crown as Carlton Turnquist ran the table and picked up two pins en route to the 170-pound JV division championship.
Not to be outdone by Cook and Turnquist, Connor Dennis was absolutely dominating at the Hettinger Classic, where he moved up to wrestler at 195 pounds. Dennis went 6-0 in the event including four pins and two wins over Hettinger's Jacob Schalesky, who is the second ranked 195-pounder in the Region.
Jake Belland picked up two pins before running into Hettinger's Colby Steeke in a match of the No. 1 vs. No. 2-ranked wrestlers in North Dakota. Steeke came away with a 3-1 decision which then pitted Belland against Lemmon's Braden Peterson, one of the top ranked 220-pounders in South Dakota. Belland would lose that match, 7-3, before picking up a pin to win third place.
---