August 25, 2020
Alexander school's back in session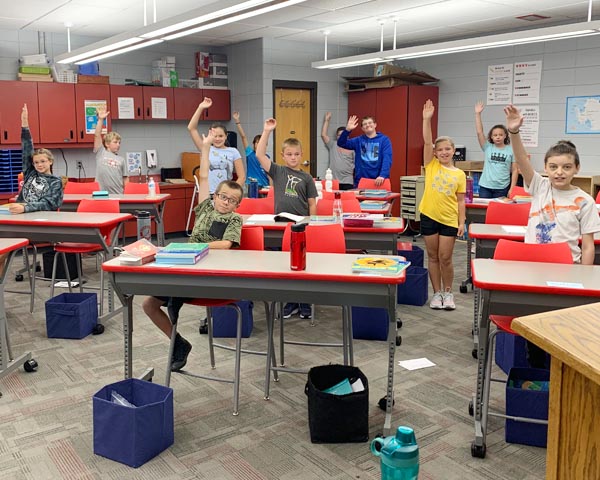 By Ashleigh Plemper
Farmer Staff Writer
"Have a great day, mister!" said Leslie Bieber, Alexander Public School District No. 2 superintendent to a student on their first day of school that kicked off last week at Alexander Public School on Aug. 19.
As Bieber greeted students upon their entrance, her voice oozed with enthusiasm as many children were beaming with joy to be back in the presence of their fellow classmates at Alexander Public School.
"Enrollment is down, but not nearly as much as I feared," says Bieber. "I was really unsure of what the numbers were going to be."
With 23 newly enrolled students at Alexander Public School this year, Bieber says enrollment is only down by 10 children.
"For Pre-K through 12th grade, we have 275 students enrolled this year," says Bieber. "K-12 is 252, which is the same number we ended with last year for K-12."
That number includes students physically attending school on the premises and those choosing distance education as they do their curriculum from home, Bieber says.
"The numbers of my homeschool kids are up. I've had five new families choose homeschool," says Bieber.
This year, a distance learning platform is being implemented for students who have chosen to go the home-schooling route, Bieber says.
"They're still our students," she says. "It's just like you're in the classroom, but you aren't physically in the classroom at school."
When it comes to extracurricular activities, Bieber says not much has changed in that department as the same sports are available for students to get involved in.
---