September 8, 2020
Governor changes COVID-19 risk levels for counties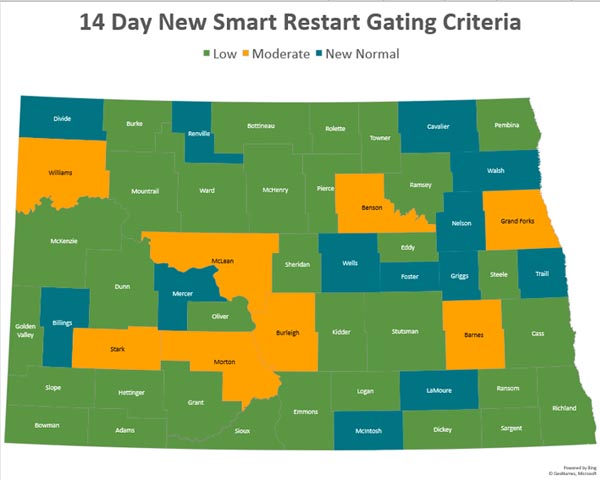 By Neal A. Shipman
Farmer Editor
In response to North Dakota's upward trend of active coronavirus cases and positive test rate, Gov. Doug Burgum announced that as of Friday, Sept. 3, he was making changes to the COVID-19 risk levels for 21 of North Dakota's 53 counties under the ND Smart Restart plan.
Eight counties (Barnes, Benson, Burleigh, Grand Forks, McLean, Morton, Stark and Williams) are moving from the low risk level (green) to the moderate risk level (yellow) under the ND Smart Restart color-coded health guidance. These counties currently account for 64 percent of North Dakota's 2,437 active cases, Burgum noted.
According to Burgum, the goal of moving counties to moderate risk is to decrease transmissible moments, giving the virus less opportunities to spread, and to raise awareness and communicate to North Dakotans that an elevated risk level exists and there are simple steps they can take to slow the spread.
Those simple steps, according to the governor are to avoid large gatherings and social distance, wear masks in public where social distancing isn't possible, and to wash your hands frequently.
---