November 22, 2017
Turkey Bingo is Watford City's social event of the year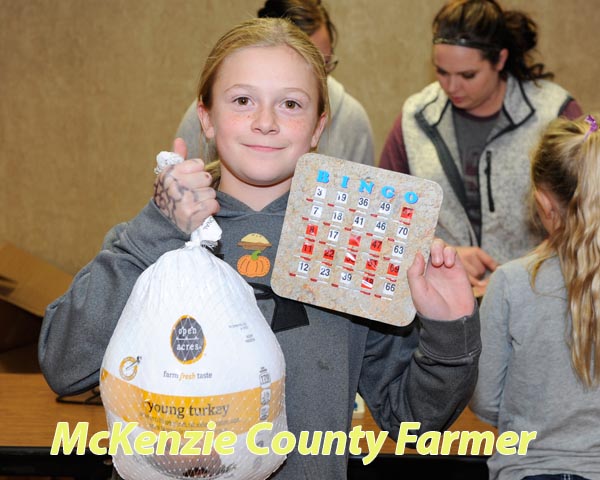 By Neal A. Shipman
Farmer Editor
Who would have ever imagined that over 500 people would fill the Watford City Intermediate School's Commons Area for the chance of winning a turkey?
But that was the scene at the middle school on Tuesday, Nov. 14, when the school's parking lot was packed with cars and the streets around the school were lined with even more vehicles. And people were flocking through the school doors with great expectations of taking home a gobbler or two for their Thanksgiving Day dinner.
"It was crazy this year," stated Mary Gumke, Watford City Area Chamber of Commerce executive director. "We had people start coming into the school at 4:30 p.m. to start getting a table."
While some of the early birds were able to dine on great soup and sandwiches, as well as baked goods sold during the 4-H Council's soup and sandwich supper, what was drawing a record crowd to the school was Turkey Bingo.
Long claimed as the greatest social event of the season, this year's Turkey Bingo lived up to that reputation and then some as a record crowd pushing 600 people crammed into the Commons Area.
For the full story, subscribe to the McKenzie County Farmer
---