February 16, 2021
Arlene Johnson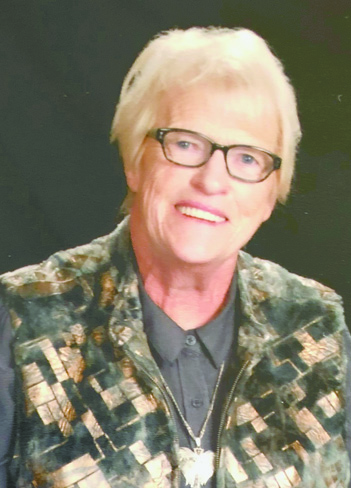 Arlene Johnson
Arlene Margaret Johnson (Blegen), age 78, went home to be with her Lord and Savior, Jesus Christ, on Tuesday, Feb. 9, 2021. Arlene was born in Watford City, N.D., on Dec. 12, 1942, to Margaret (Siverston) and Eddie Blegen as the youngest of three children. She was raised on her family homestead in the Keene area. Arlene was baptized and confirmed in the Clear Creek Church in Keene, N.D. Arlene attended Berg School from first through eighth grade and then graduated from New Town High School in 1961.
Arlene married the love of her life, Mervin Johnson, on Aug. 5, 1961, in Tioga, N.D., in the Lutheran Church. Together, they farmed, ranched, and eventually settled on the original Johnson family homestead in Watford City, N.D., where they raised their four children. They welcomed, Brenda Stoner (Johnson) in 1962, Corene Nelson (Johnson) in 1963, Arlys Frazier (Johnson) in 1965, infant son, Terrence Johnson in 1972, and Zane Johnson in 1976. Arlene and Mervin enjoyed their years on the Johnson family homestead by raising their children, ranching, farming, and spending time with their grandchildren until Mervin's retirement in 2004.
Arlene was a loving mother, grandmother, and great-grandmother who devoted her life to caring for her family, cows, horses, animals of all kinds, including her beloved kitties; Miss Kitty and Licorice, and especially her horse Farina. Arlene loved to socialize and spend time with others anytime she could. She also loved to spend time doing her puzzle books, reading scripture, playing pool, spending time outdoors on the ranch, and spending time with her family and friends. Arlene was a member of the Eagles Auxiliary, 50 Years in the Saddle Club, and Sons of Norway. Arlene cared dearly for her "Golden Girls Group," which consisted of JoAnn Faulkner, Rita Hovet, and herself. She was an active member of the First Lutheran Church in Watford City, N.D. Arlene's infectious laugh, smile, and loving spirit will be missed by many.
Arlene is survived by her siblings, JoAnn (Jack) Skarda, Keene, N.D., Raymond (Lois) Blegen, Keene, N.D.; her daughter, Corene (Jon) Nelson, Frederick, Colo., her daughter, Arlys (Ray) Frazier, Watford City; her son, Zane Johnson, Buffalo, Wyo.; her son-in-law, Craig (Brenda) Stoner, Sheridan, Wyo.; her grandchildren, Cye Stoner, Austin, Texas, Clay (Shelly) Stoner, Sheridan, Wyo., Patrick (Elizabeth Castro) Johnson, Minot, N.D., Brett (Megdalyn) Johnson, Minot, N.D., Alisa Nelson, Longmont, Colo., Matthew (Brianna Perez) Nelson, USMC, Cadence Johnson, Billings, Mont., Macy Johnson, Buffalo, Wyo., Sarah Johnson, Buffalo, Wyo.; and her great-granddaughter, Margot Stoner, Sheridan, Wyo.
Arlene was preceded in death by her beloved husband, Mervin Johnson; her daughter, Brenda Stoner; her son, Terrence Johnson; and her parents, Eddie and Margaret Blegen.
Funeral services for Arlene M. Johnson, 78, of Watford City were held at 11 a.m., (CDT), Monday, Feb. 15, 2021, at the First Lutheran Church in Watford City with Reverend Paul Balaban officiating. Interment was in the Schafer Cemetery, Watford City, N.D., under the care of the Fulkerson-Stevenson Funeral Home of Watford City. Visitation was held Sunday, Feb.14, 2021, from 12:30 until 5 p.m. (CDT) at the funeral home and one hour before services at the church. Remembrances, condolences and pictures may be shared with the family at www.fulkersons.com.
---