May 10, 2022
Beverly Hildre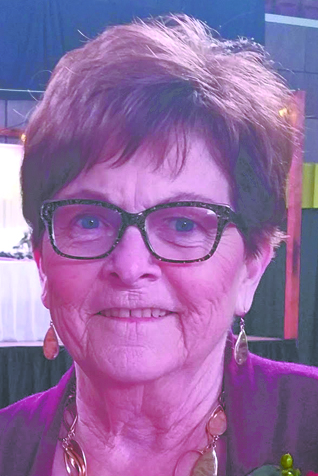 Beverly Ann Hildre, 75, of Arnegard, N.D., passed away peacefully on May 3, 2022, at her home surrounded by her family.
Beverly Ann was born on April 14, 1947, to Melvin and Inga (Lofthus) Wold. She was named by her older brother, Myron. Bev grew up in the Banks community and attended Tollefson rural school and Watford City schools. She graduated from Watford City High School and attended business school in Minot, N.D.
Growing up she loved being outdoors. She loved animals and fishing in the creek on the farm. She was active in 4-H and was a member of the Banks Willing Workers 4-H Club. She loved music and played piano and accordian, which she continued to play throughout her life.
Bev met Norris Hildre at a barn dance in Grassy Butte. Dancing was a lifelong enjoyment for them. Norris and Bev were married on Oct. 8, 1966, at the Banks Lutheran Church. They made their home in the Spring Creek community south of Watford City where they raised their 4 children, Brenda, Vicki, Anita and Marty.
Bev worked with Norris on the farm as well as working in Watford City both at the ASCS office and as an American Family Insurance agent. She was an active member, and served as president of the North Dakota CattleWomen's Association, was a 4-H leader and spent many hours helping her children get several projects ready for the fair every year. Later, Norris and Bev moved to the Minot area, where she continued her career as an insurance agent, retiring in 2011. During this time she became an avid quilter and was a member of many quilting groups.
Bev was a wonderful wife, mother, grandmother, great-grandmother, and friend to all that knew her. She was known for her many gifted talents which included crafting beautiful quilts, baking wonderful homemade goods and growing a garden full of plentiful goods which she then would spend hours turning into canned goods. She cherished spending time at her grandchildren's many events.
During retirement, Bev and Norris enjoyed traveling all over the country, making many friends, especially enjoying their time in Texas. They loved attending rodeos and spending time with family. Most recently she and Norris resided near Arnegard, N.D., and celebrated 55 years of marriage in October.
Bev is survived by her husband, Norris of rural Arnegard, N.D.; daughter, Brenda (Daryl) Heinen, Fargo, N.D.; daughter, Vicki (Clayton) Monsen, rural Arnegard, N.D.; daughter, Anita (Kent) Pedersen, rural Arnegard, N.D.; son, Marty (Jennifer) Hildre, Velva, N.D.; grandsons, Joshua (Haley) and Seth (Morgan) Heinen, Fargo, N.D.; granddaughter, Grace Heinen, Fargo, N.D.; grandson, Ryan (Celena) Monsen, rural Arnegard, N.D.; granddaughters, Allison (Cole) Zimmerman, Karissa (Blake) Frick and Kaylin Monsen, rural Arnegard, N.D.; granddaughter, Jordyn Pedersen; grandson, Luke Pedersen, rural Arnegard, N.D.; granddaughter, Kylie Hildre and Reagan (fiancé Karson Sedivec) Hildre, Velva, N.D.; grandson, Carson Hildre, Velva, N.D.; and great-granddaughter, Taytum Zimmerman, rural Arnegard, N.D., as well as many nieces, nephews and extended family members. Bev was preceded in death by her parents; mother-in-law; father-in-law and brother.
Beverly's funeral service was held on Saturday, May 7, 2022, at 2 p.m. at the Living Faith Church, 805 14th Street SW, Watford City, N.D. Pastor Roger Olson officiated. Beverly was laid to rest at the Spring Creek Cemetery in Watford City, N.D. Visitation was held on Friday, May 6, 2022, from 12 to 6 p.m. at Fulkerson Stevenson Funeral Home Chapel of Watford City.
The Funeral Service was live streamed. You can view Beverly's service directly on her obituary page on the website www.fulkersons.com
Fulkerson Stevenson Funeral Home of Watford City, N.D. assisted the family. Condolences may be left on the funeral home website at www.fulkersons.com.
Memorials can be made in Beverly's name to: North Dakota Cowboy Hall of Fame, PO Box 137, Medora, ND 58645 or to the Spring Creek Cemetery Fund, 1442 125th Ave. NW, Watford City, ND 58854.
---